I have been traveling with the Osprey Farpoint 55L
 travel pack for over 2 months now, and I thought it was time I did a review of it. Previously, I had been traveling with the Osprey Porter 46L
, which I wrote about here (Best Backpack for Traveling Europe). I bought the Osprey Porter 46L pack in 2012 for my first trip to Europe and used it for all my travels up until 2 months ago. However, it was missing a few key things that the Osprey Farpoint 55L has, which is why the Farpoint is now my favorite travel pack.
Farpoint 55 Litre Travel Pack: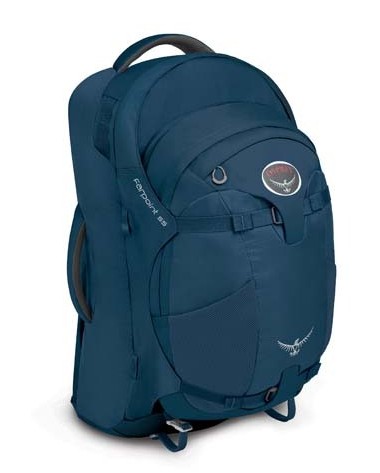 Why I Love the Farpoint 55 Litre Travel Pack:
1. It has a main compartment zipper access – A must!
You want to find a travel pack that opens like a suitcase. If you get one that only opens from the top, you will (most likely) hate your life. Whatever you need to get out will always be at the bottom of your pack, so you'll have to take everything out and re-pack all of it every time. It's Murphy's law.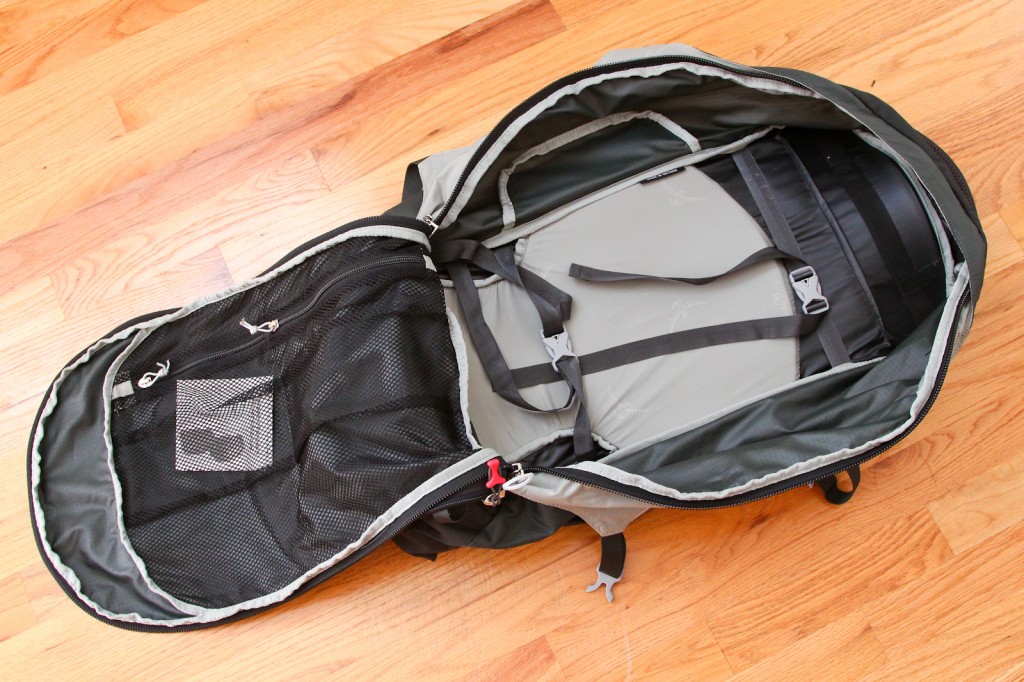 2. It has a laptop sleeve compartment.

This is only important if you plan on taking a laptop, of course. The laptop sleeve in the Osprey Farpoint 55L is excellent. My laptop is an ASUS 13.3 inch and it fits perfectly in the day pack laptop compartment sleeve, with a little room to spare.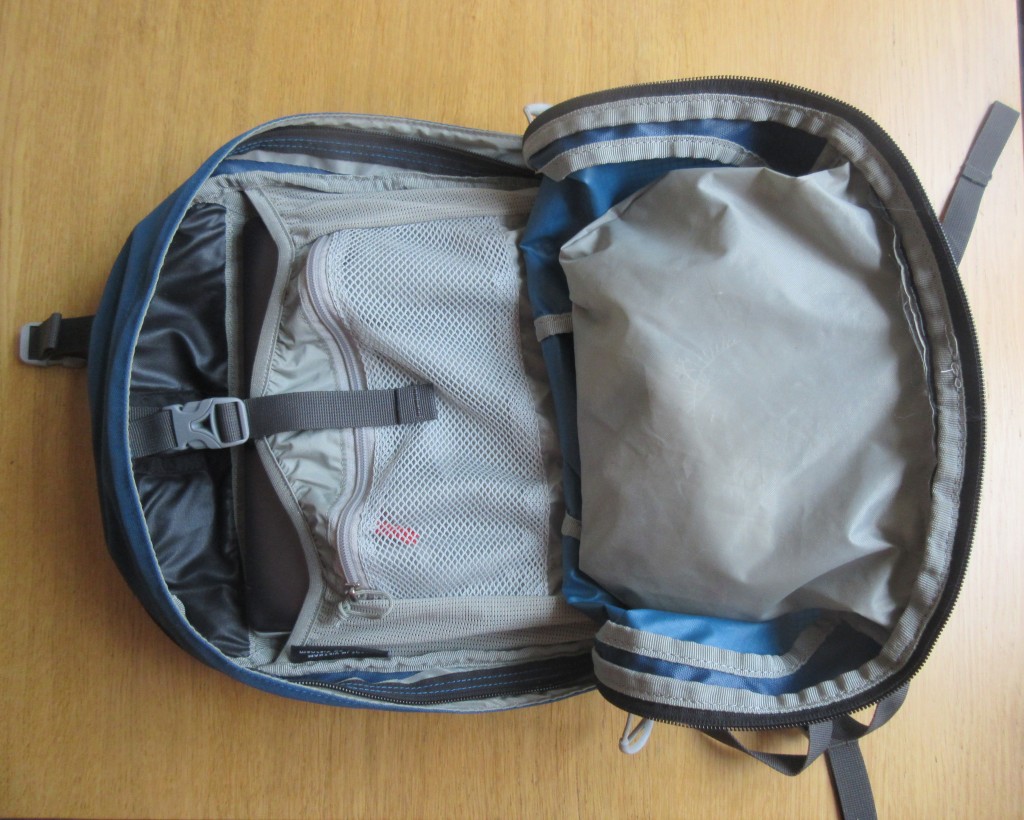 3. It has a hip belt and good padding.
The hip belt is very helpful when walking long distances because it allows you to transfer the weight of your pack from your shoulders to your hips, where you really don't feel the weight as much. It makes carrying your pack 10x easier, and your shoulders will greatly appreciate it. I love this feature! This pack also has pretty decent padding on the straps and for your back, which is great.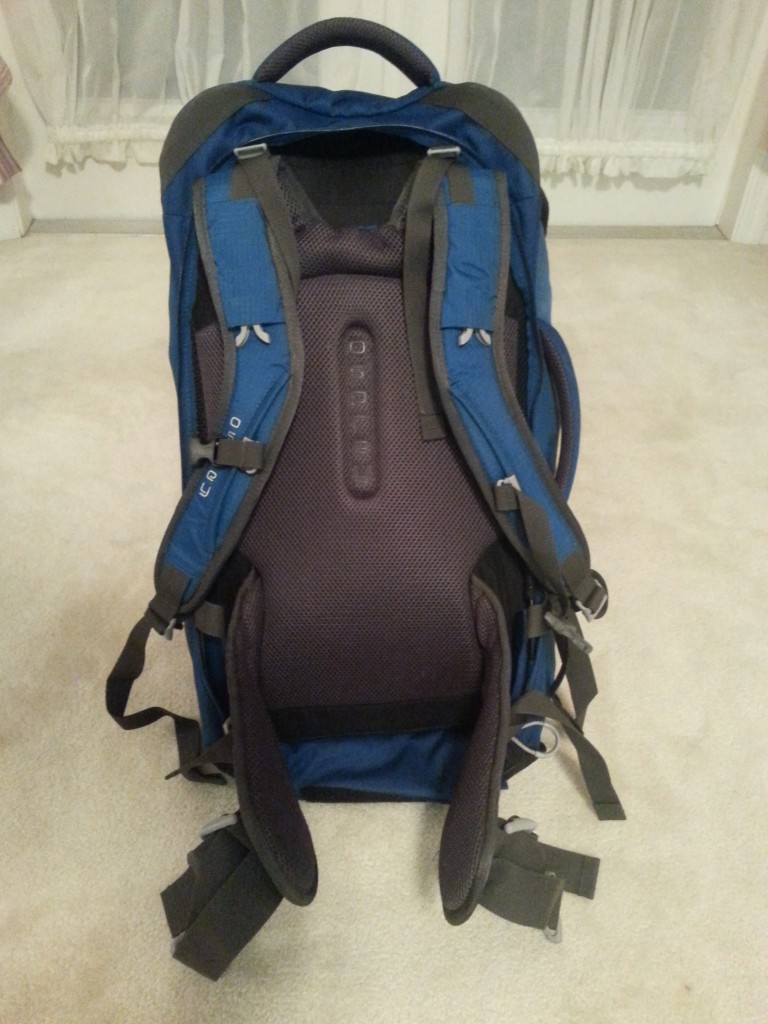 4. The straps and hip belt can be zipped up and hidden.
This is great for carrying the pack like a duffel bag, storing it on buses/trains/hostels, and checking it on planes. The zippers are so easy to use and they tuck the straps away in seconds.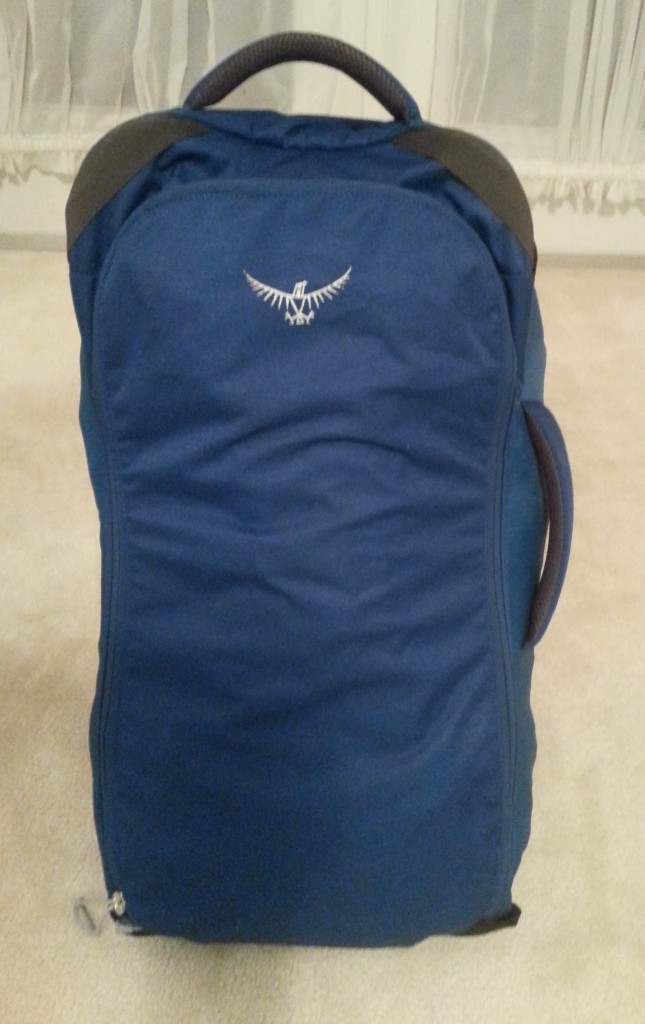 5. It has a detachable day pack.
This is something I wasn't initially looking for, but it's such a nice bonus! I definitely recommend getting a pack that has a day pack, if size isn't an issue for you. A day pack is great for carrying things that you access frequently when traveling. Such as a book, a magazine, an inflatable travel pillow, eye mask, ear plugs, adapters, chargers, etc. It's also nice to use when doing active things, such as hiking, or going to a very touristy sight. It those situations it's better than carrying a purse, and it's nice to have more space to carry water and snacks. (If I'm in the city I try to blend in by taking a purse, though. Nothing screams tourist like a bright blue backpack!)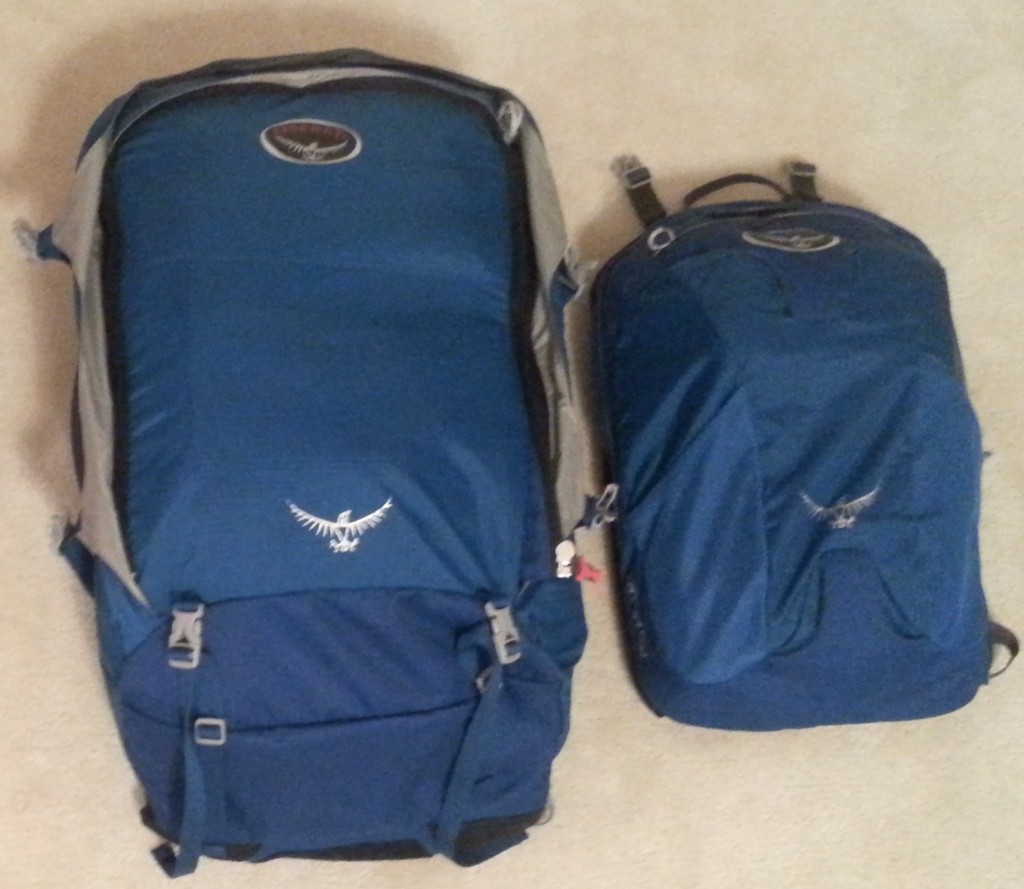 6. It's a 55L pack which is a good size for traveling long term.
Okay… so I'm contradicting what I originally said in a previous post (read: Best Backpack for Traveling Europe). I had said that you really shouldn't use a travel pack that is more than 46L because it's unnecessary. Well, it honestly is unnecessary. I could have made due with my 46L pack, but truth be told, I wanted more space. I wanted to have a bit more room to take more clothes and to bring back trinkets I accumulate along the way. The type of trip you're taking will help determine which size travel pack is right for you.
Are you backpacking short-term? Do you want a carry on size? If so, then I recommend getting a 46L travel pack or smaller, such as the Osprey Porter 46L
travel pack. If you go any bigger, you'll have trouble taking it as a carry on.
If you are traveling longer, want a bit more space, can avoid taking planes, or don't mind paying to check your pack, then getting a slightly bigger pack is the way to go. Notice I said "slightly". Don't go off and buy an 70L+ travel pack if you're planning on just backpacking Europe, for example, and staying in hostels. That's way too big, and you'll most likely regret your decision. (If you're actually planning on backpacking/hiking/camping out in the wild that's a completely different story.)
Info about the Osprey FarPoint 55L:
It actually comes in two sizes: S/M (52L) and M/L (55L).
I wasn't sure which size to get, but I decided to go with the smaller one since I just wanted a slighter larger pack. I'm 5'9 ft (1.75 m) and it suits me perfectly fine. So technically my pack is really only a 52L. The M/L would have worked for me too. Also, in case you're wondering, I've heard of other travelers who are 5'2 ft and the S/M also fits them too!
Important tip: Invest in some packing cubes and your life will be much easier. Check out the ones I got from Amazon (there are a bunch of different colors): eBags Packing Cubes
Backpacking Europe: How Packing Cubes Saved My Life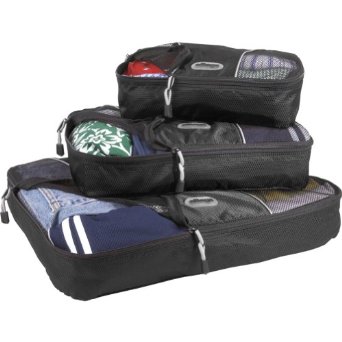 Negatives about the pack:
I've been racking my brain trying to come up with any negatives about the pack, but no luck. I honestly can't think of any besides the fact that it's too big to take as a carry on (if you include the detachable day pack). Besides that, it really is the ideal backpacking travel pack. I'll be using this pack for long time!
More Photos of the Osprey FarPoint 55L Travel Pack: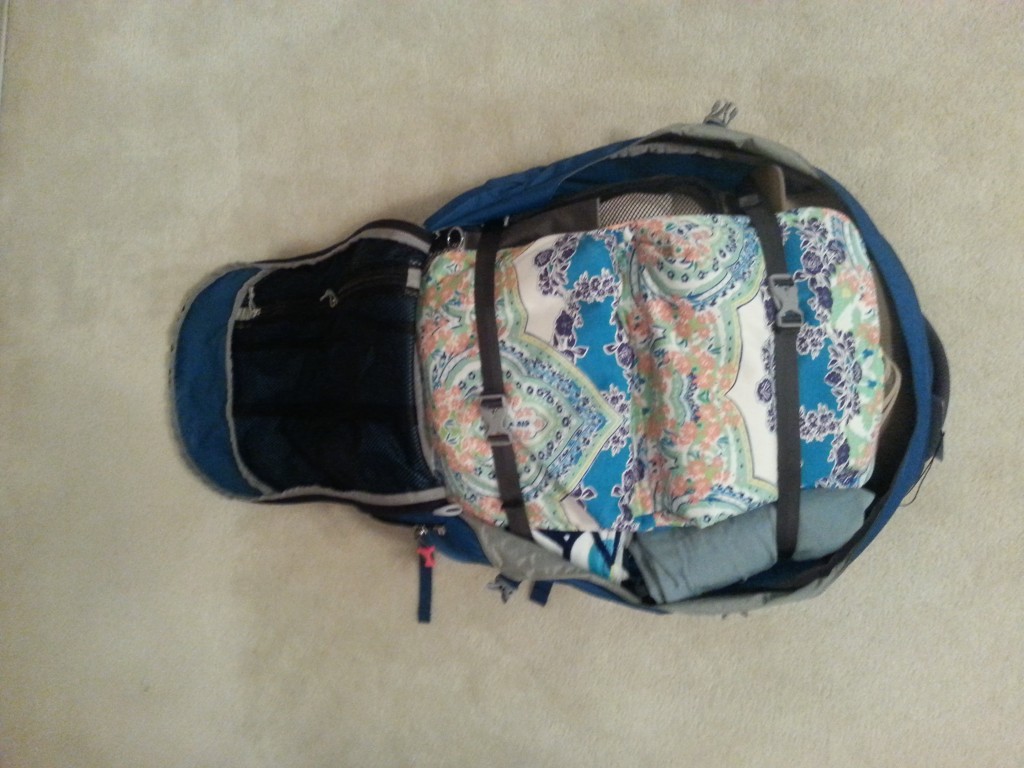 Great interior straps and pockets.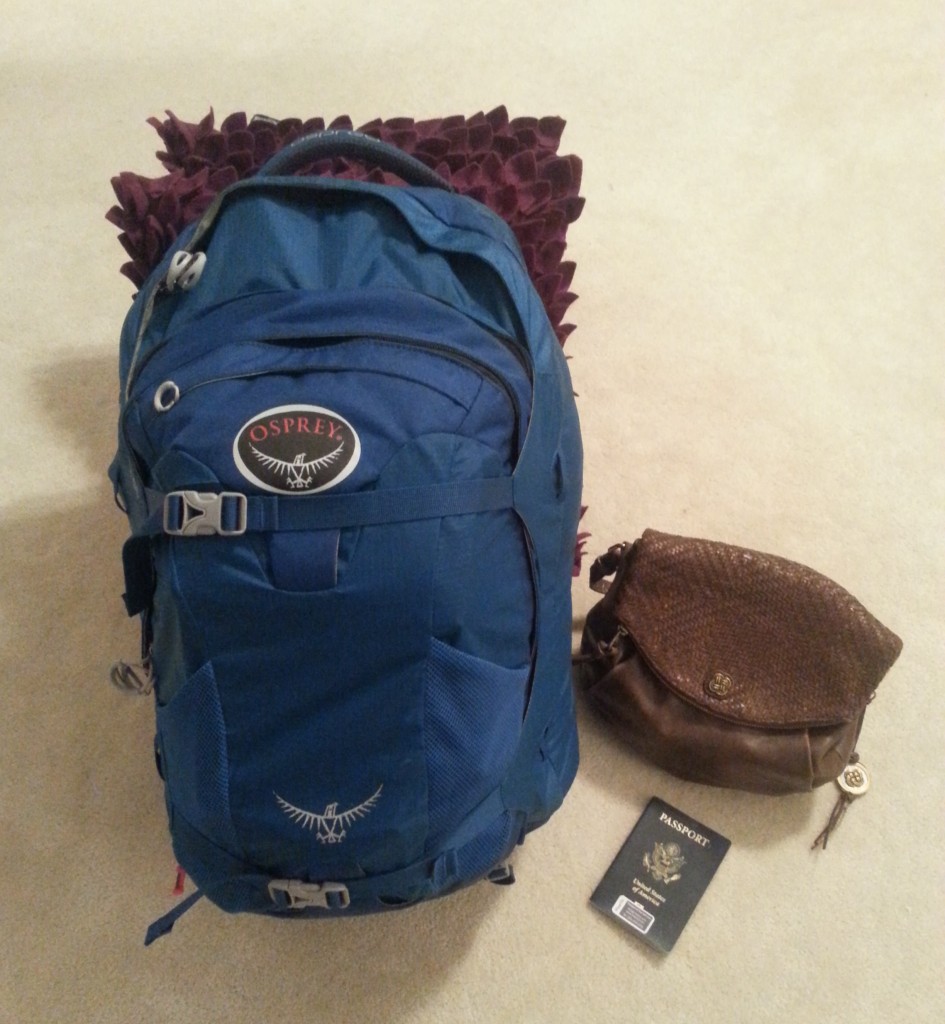 All packed up and ready to go!
Check out the Osprey Farpoint 55L on Amazon
 here.
Are you also trying to decide what to pack? I know the struggle! Read: Female Backpacking Europe Packing List – What's In My Travel Pack?
Don't forget to subscribe to BlondeChickTravels for more travel tips and adventures!