If you're a party lover and you haven't heard of Sail Croatia, you are missing out BIG TIME! Personally, I had never heard about Sail Croatia until I met this Aussie guy in London on my first backpacking trip through Europe in 2012. He just couldn't stop talking above what an amazing time he'd had sailing the Dalmatian Coast with Sail Croatia. Before talking to him, I had never even thought about traveling to Croatia while in Europe, but after hearing about his incredible experience, I knew I would have to experience Sail Croatia for myself some day. Fast forward two years later, and I now understand why that guy couldn't shut up about Sail Croatia. It truly was one unforgettable week!
 My Sail Croatia Experience…
I sailed on Sail Croatia from June 7th-June 14th, 2014, on a Navigator standard boat (shared bathrooms) in an above deck cabin. I actually ended up sailing during a "Raft Up!" week, which was geared towards even more partying!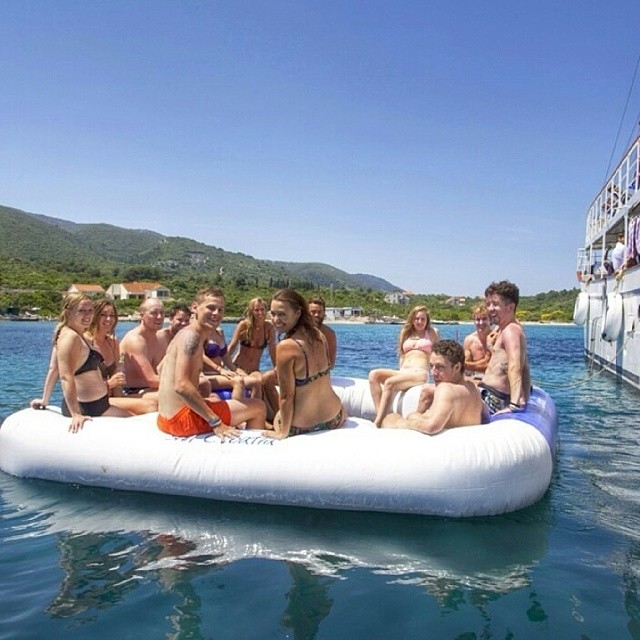 There were three boats that sailed during the"Raft Up!" week, and the amazing thing about it was that all three boats would moore up (attached together) during the day at swim stops to hang out/swim together, and at night to party together. So basically, it was just one massive non-stop party with 3X the people!
In the busier months of July and August, I've heard of 10 boats sailing together, and mooring together to form a circle at swim stops. Now, that sounds pretty awesome!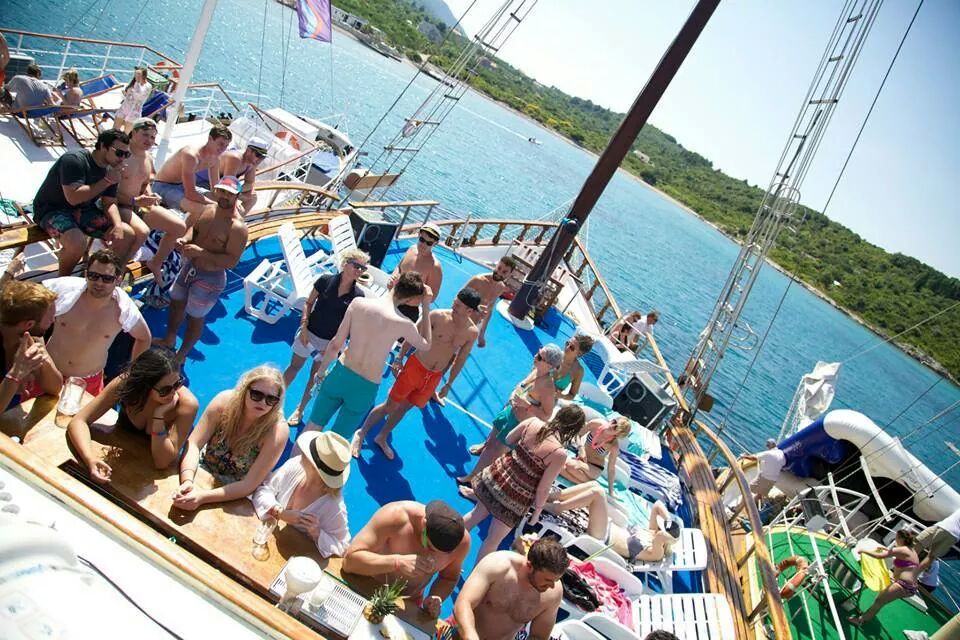 Daily Itinerary:
On the first day, the boat leaves around 1pm. For the remainder of the week, the boat sets sail for the next island or stop around 6-7am every day, with a light breakfast served until 9am. Most everyone on my boat would wake up by 10-11am and stagger upstairs to the main deck in their bathing suits, still hung over from the night before.
Not a bad view to wake up to…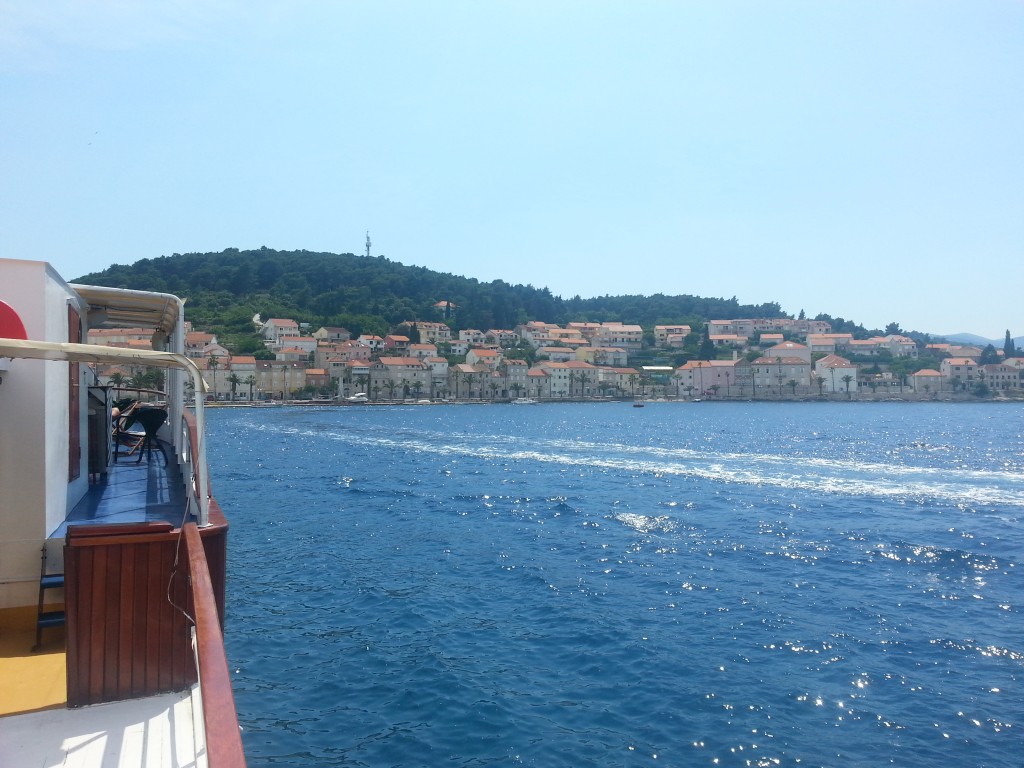 If you time it right, the boat will already be anchored at a morning swim stop. Jumping off the boat into the freezing water is a great way to numb a hangover.
A very delicious and filling lunch is served at noon, followed by more sailing, and then an afternoon swim stop where the boats meet up, if you're on a "Raft Up!" type week.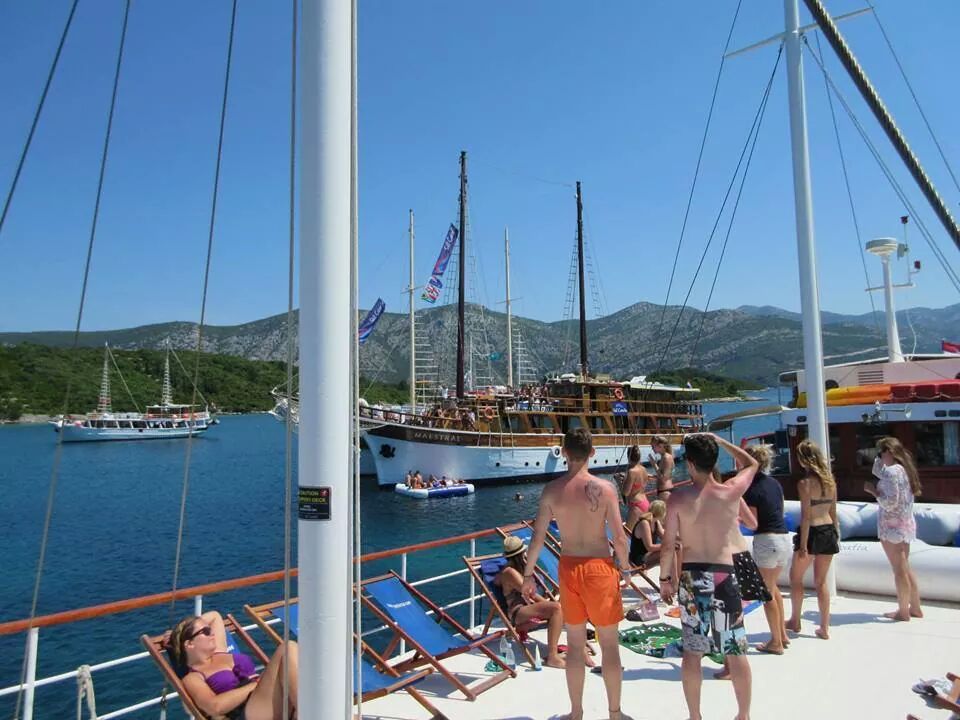 Usually, the boats arrive to most of the islands/stops in the late afternoon, and you'll be docked until the next morning. For Dubrovnik, we arrived right after lunch to allow for more sightseeing time.
After checking out the islands, most of us would come back and chill on the boats in the evening before getting ready to go out around 11pm. If you're more into sightseeing and exploring the islands or stops, then there's no rush to come back early.
The Islands…
I visited Split, Hvar, Korcula, Dubrovnik, Mljet, and Makarska. The islands were beautiful, with some more interesting than others.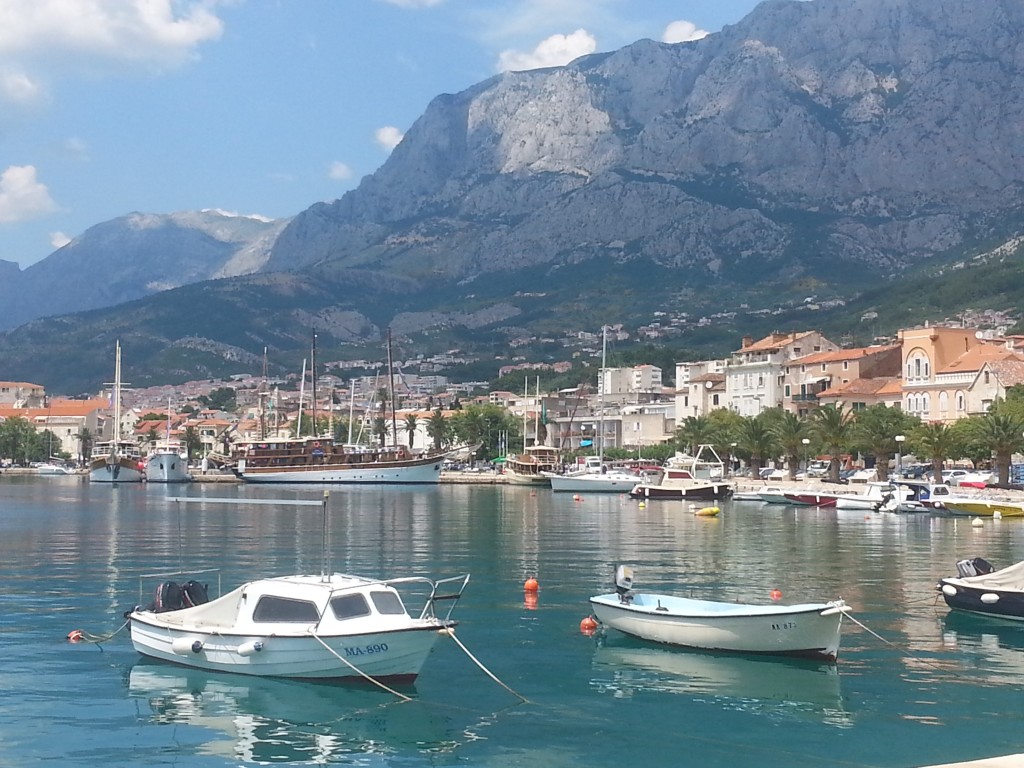 Split (where Sail Croatia leaves from) is definitely worth a few days to explore old town. It's very backpacker oriented, so get there a few days before your departure date to sightsee and to start partying early.
Dubrovnik was beautiful and there's a lot to do and see there. I highly recommend taking the cable car up to the top for incredible views of the town and harbor.
As for the other islands, I honestly only remember the nights out, which were a blast!
The Sail Croatia parties…
Every night you get to look forward to an epic Sail Croatia party. Sometimes the big party of the night was on the boats…
…but most of the time, they were on land at one of the clubs, pubs, or a secret beach party.
The parties lasted until 4-5am, and then we'd try to find food wherever we could. We'd make our way back to the boats, hang out on the deck for a bit, and head to bed. Make sure you make it back to your boat before 6am, or you WILL get left behind. It's happened… way more than you think.
Repeat for 8 days!
The Goodbyes…
It's always sad to say good bye. Once back in Split, you'l have to say good bye to your incredible crew, and all the amazing friends you've grown so close with over the last week. After a week on board Sail Croatia, they're bound to be life-long friends… or at the very least, close facebook friends.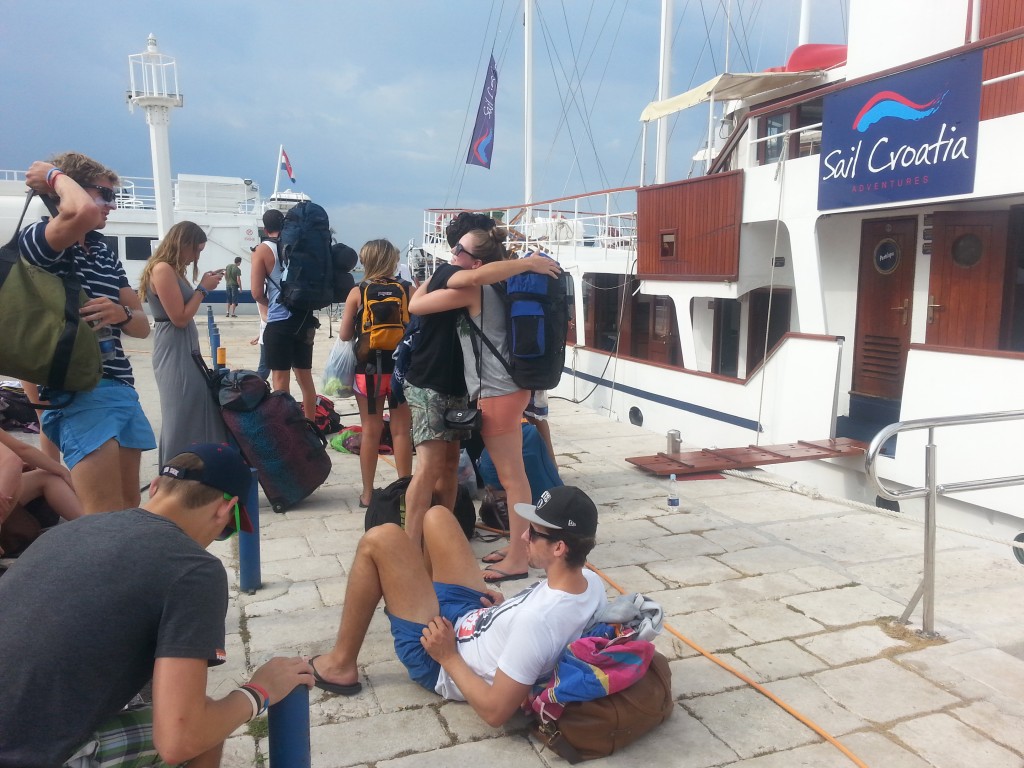 Traveling Solo?
There are a ton of people who travel solo on Sail Croatia, so you won't be alone! Everyone on board a navigator cruise, whether they came solo or not, is looking to make friends and have a great time. As long as your friendly, you'll make loads of friends instantly!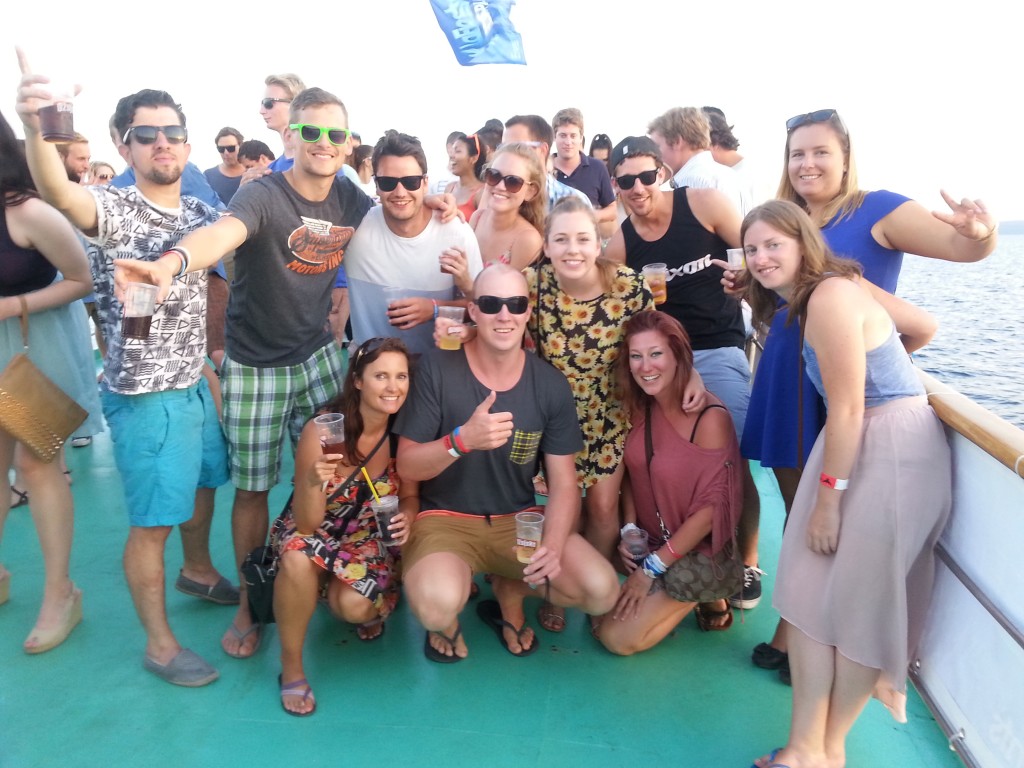 When to take a Sail Croatia Cruise?
Cruises are offered from the end of April to the middle of October, with July and August being the most popular and the most expensive months to cruise.
Sail Croatia Prices?
Prices range between £299 to £689 for the navigator cruises. You have several options when booking your cruise which will determine the price: ensuite (bathroom in cabin) or standard boat (shared bathroom), an above or below deck cabin, and which month you'd like to sail.
What are you waiting for?
I honestly had the absolute best experience sailing with Sail Croatia, and can't say enough good things about my experience. I mean, just imagine spending 8 days sailing the beautiful coast of Croatia, swimming in the Adriatic Sea, relaxing on a sail boat (with beer in hand), partying all night – all with an awesome group of under 35 year olds.
Life doesn't get much better than that!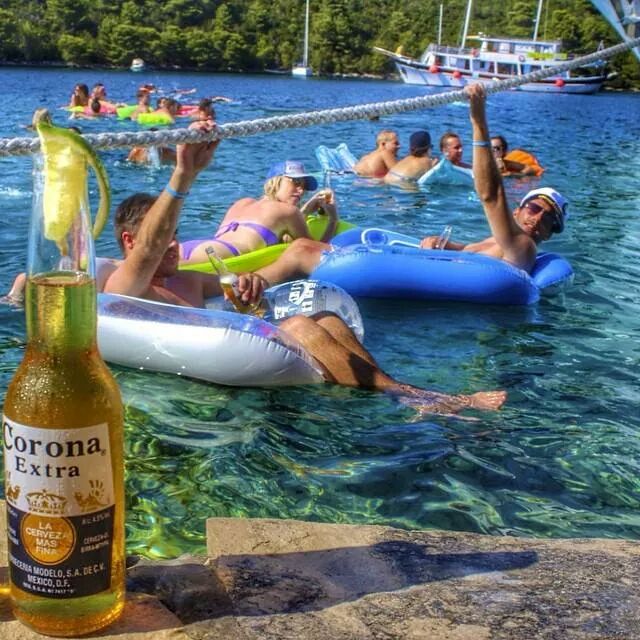 I'm already planning on taking another Sail Croatia trip in the near future.
Maybe I'll see you there!
Questions about Sail Croatia?
I'm sure you have a ton of questions about this trip. I know I did. I wondered what to pack, how much extra money to bring, whether to book an ensuite or standard boat, an above deck or below deck cabin, and so on. I'll be writing a post to hopefully answer all those questions and more. Ask away in the comments below, and I'll be sure to answer them!
Don't Forget to Subscribe to BlondeChickTravels: