Riding a Donkey in Santorini, Greece was definitely one of the memorable experiences I had while backpacking Europe.
I wouldn't say it was a safe experience, by any means, but it sure was a fun one! A trip to Santorini wouldn't be complete without giving it a try. Hopefully, you survive the experience!
If you're planning on taking a volcanic or "hot springs" tour chances are you're going to be boarding your boat from the port in Fira, which is the main town in Santorini. The port happens to be about a 980 ft (300 m) drop from the main town, though. So that leaves you with three options:
Take a cable car there (Expect very long lines!)
Ride a donkey
Walk the path filled with people and tons of donkeys
(Looking down at the port, from the town of Fira)
My sister and I took the cable car on the way down, since we were in a bit of a hurry. There wasn't much a line in the morning. While on our way down, we saw the donkeys heading up…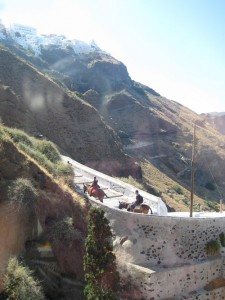 … so we decided to try it on our way up!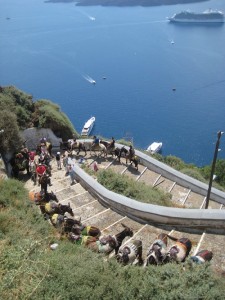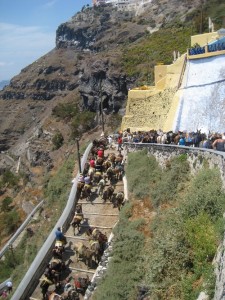 What to Expect on your Donkey Ride:
There didn't seem to be any guides that go up with you. The donkeys just seem to know the path and follow the other donkeys up. If there is a guide who is at the front, there are so many donkeys going up, that you probably wouldn't be able to see him. So basically, if you need any help while on the way up or the way down, you're on your own.
The people who "operate" this basically just throw you on a donkey, and the donkey will just take off going. No instructions on how to steer the donkey, or how to stop. (I attempted to wait for my sister to get on her donkey, but mine just took off going once I got thrown on. I literally could not get my donkey to stop. It took about 5 minutes before my sister caught up!)
It's HOT! Seriously, put sunscreen on before you get on your donkey. It's a long, scenic ride. Although beautiful, it's also extremely hot during the summer. I stripped down to my bathing suit at some point during the ride. That made it much more enjoyable.
Occasionally as you're going up, there will be a herd of donkeys going back down; some with people on them, some without. The path is not that wide, and since the guides are pretty useless, it's basically like a stampede of donkey's coming at you! Watch your legs, so they don't get twisted off. (I'm actually serious!) My sister kind of freaked out a little during one of the "stampedes". It can be a little frightening. Mainly because no one is really controlling them. One guy did fall off his donkey, so be careful!
Oh, and did I mention that this is also a walking path?! Yes, it's a path for donkeys going up, donkeys going down, and for people going up, and people going down. I saw one guy, who was walking the path, fall down when we were coming up on the donkeys. Needless to say, it's a bit of a mess… and I'm not referring to the donkey's waste, which also happens to take up parts of the path. It's definitely an experience, that's for sure!
The donkey's don't seem to be treated the best. They're forced to work all day in the hot sun, going up and down a very steep cliff. So be nice to your donkey. If he needs to stop for a minute, let him rest!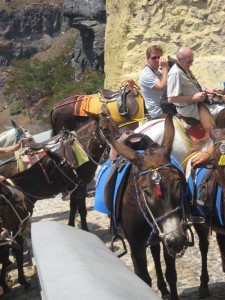 (Above: That was my donkey! He's so cute!)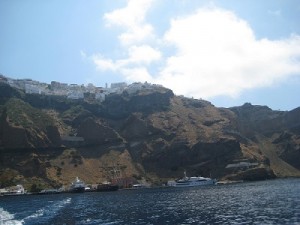 (Above: The cliff that the donkeys are going up and down, from Fira, at the top, to the port below.)
Although a bit dangerous, it still is rather fun, and something you just HAVE to experience while in Santorini!
Are you planning a trip to Greece? Leave a comment below!