I had never heard of Bergen, Norway until I happened to find an incredibly cheap flight that flew directly there from the States. I was planning my second backpacking trip to Europe this past April, and I didn't care where in Europe I flew into. I just needed to find a cheap flight that would get me there. Thanks to Norwegian Air, I was able to get a $263 flight to Europe! That meant flying into the cute, small city of Bergen. After one day exploring Bergen, Noway, I fell in love with the place.
The flight to Bergen…
I happened to sit next to two Norwegian girls, also in their 20s, on the flight from JFK to Bergen. Talking always seems to pass the time, and it turned out they were actually from Bergen and were headed home with their mom, after spending a few days in New York City. They shared a funny story about getting into trouble with the cops for drinking on the streets in New York. (Apparently, no one cares if you drink on the streets in Bergen.)
Before meeting the girls, I don't think I had ever heard Norwegian spoken. Needless to say, it was really foreign to my ears. By the end of the flight I had learned some basic Norwegian, like "Hello" (Hei), "Thank you" (Takk) and "Excuse me" (Unnskyld). The Norwegians also told me that Bergen is well-known for being cloudy and rainy, so I was very happy when I ended up having pretty perfect weather while visiting. There's something really nice about meeting locals before landing in a foreign country.
The views while descending into Bergen are incredible! You're able to see the beautiful Norweigian Fjords.
(What's a fjord? It's a long, narrow, deep inlet of the sea between high cliffs.)
Arriving in Bergen…
The airport is very tiny, which is actually really nice. It hardly took any time to get through customs. I took out some krone at an ATM in the airport, and found the bus to the city center waiting for me right outside the airport. (Flybussen – check prices and times here.) It took about 30 minutes with stops to get to the city center. I knew I wanted to get off at the Fish Market stop, but I wasn't sure which stop that was. The drivers and the locals all speak English really well, so they were able to tell me when to get off. (It's also where a lot of tourists and backpackers get off. The stop is right by the old harbor.)
The hostel…
Hostels are not cheap in Norway. In fact, they are darn right expensive, which is why I only stayed one night! The options for hostels are very slim in Bergen, and they tend to book up fast. I lucked out and got a room at the Bergen YMCA Hostel at the last minute. It's a great hostel, right in the center of town. It's clean and has an awesome rooftop deck with amazing views of the old harbor and the town. I also had really nice roommates who I walked around town with for a bit. (A girl from the Netherlands traveling solo, and a brother and sister from California traveling together.)
The 6-bed dorm was the only option at the time, and cost about $50 for one night! Definitely book early if you want to save money and stay in a larger dorm. I was surprised to find that I had a mini kitchen in my dorm room, since that's not very common in hostels. Usually, you have to cook in the main hostel kitchen. You'll want to cook food if you can because Norway is incredible expensive.
The hostel's rooftop deck is a very nice place to have your morning coffee, or to sit and relax after a long day of sightseeing. The views are great!
Walking around town…
What I love most about Bergen is that it's such a walkable city. You don't need to take any transportation to get around because the city is pretty small. I really enjoyed spending the day wandering and exploring the city.
I absolutely love those colorful buildings!
While walking around the lake, I ran into a Norwegian ceremony.
The Norwegian Constitution Day (May 17th) was only a week away. I'm guessing they were starting the celebrations early.
In honor of the upcoming Norwegian Constitution Day, there was a Norwegian parade in the streets of Bergen.
Best thing to do in Bergen…
One of the best things to do in Bergen is to take the funicular (cable car) up to Mount Floyen. From there, you'll have incredible views of the whole town and the old harbor. If you'd prefer to hike up the mountain, there is a very nice path, but parts of the trail are pretty steep. (I'd suggest wearing work out clothes!) I took the funicular up, and then walked down. It was a very nice hike, with views popping out everywhere. It took about 45 minutes to come down the mountain, so I'm guessing it would take a bit longer to walk up.
The views of the town while coming down Mount Floyen are absolutely beautiful.

Funny story….
So I got a little lost while exploring the town. I stopped off to the side in a plaza to look at the maps on my phone to get my bearings. While I was staring at my phone, this cute, young guy came up to me and asked me for directions… in Norwegian! At first I was completely blank-faced because besides knowing that he was asking for directions, I had absolutely no idea what he had just said. I quickly mumbled a response in English, a little embarrassed, and after a second he finally realized I was only a tourist. I just couldn't believe he actually thought I was a local Norwegian. It made my day!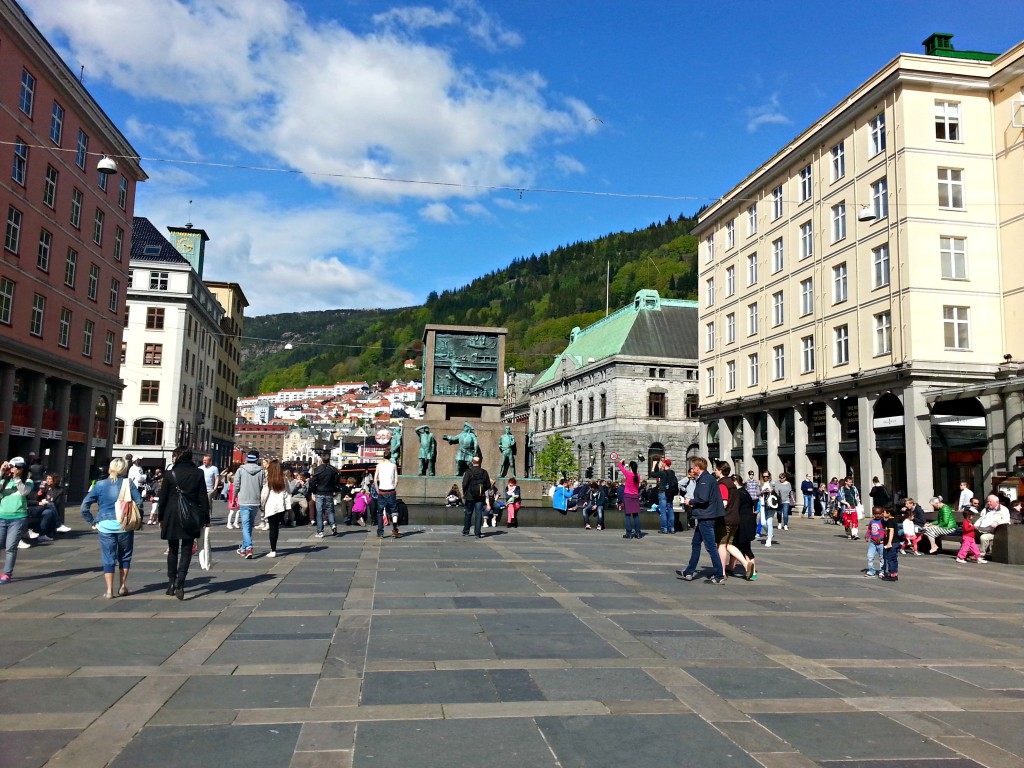 This blew my mind…
Coming from the very south of the U.S., I'm used to the sun setting at around 5pm in the fall and winter, and 8pm in the spring and summer. So imagine my surprise when I checked my watch to discover it was 10:21pm when the sun was setting in Norway! I had completely lost track of time while sightseeing and wandering around trying to find a cheap place to eat dinner. I stood in disbelief for a few minutes while I watched the beautiful shades of pinks and purples reflect in the sky. I just couldn't believe how late it actually was. Having several more hours of daylight is just amazing!
Cost of Food…
Norway is an expensive country, but I was able to find cheap(er) food by looking for it, and also not eating quite as much as I normally would. If you're tight on money, don't eat at any restaurants. The prices are insanely high. If you're staying for a couple days, I'd recommend going to the grocery store and cooking your own food.
Breakfast:
I had breakfast on the plane.
Lunch:
Hotdog (from a convenience store) – NOK 39 ($6.60)
Dinner:
Chicken Wrap (from a cheap, small shop on the harbor) – NOK 69 ($11.67)
Breakfast (Next day at the airport):
Muffin – NOK 23 ($3.89)
Banana (2) – NOK 12 ($2.02)
Overall Impressions of Bergen…
Having only spent one day in Bergen, I feel that I was still able to see and do everything I wanted to. Bergen is such a nice, clean-kept city with beautiful scenery and a great "old town". I really fell in love with the place. The people are friendly and speak English very well, which is always helpful, and makes you feel more at ease in a foreign environment. The cost of Norway may be ridiculously expensive, but Bergen is still worth visiting, if only for one day! (Especially, if it gets you to Europe for only $263!)