Norwegian Air is an airline that started offering amazing deals on flights to and from the States and Europe in 2013. Not too long ago, they were an airline that no one had ever heard of in the U.S., but thanks to their incredibly low ticket prices, they have become increasingly popular. With one-way flights to Europe for only $200, a round-trip ticket to Europe for $300 – I mean how can they not be popular? You're probably wondering how they could possibly be offering flights that cheap. Well, a lot of it has to do with their new aircrafts, which are modern, efficient, and environmentally friendly. I flew to Europe with Norwegian Air for the first time in May 2014, and I thought I'd share with you my unbiased experience flying with them.
Norwegian 787-8 Dreamliner – used for long-haul flights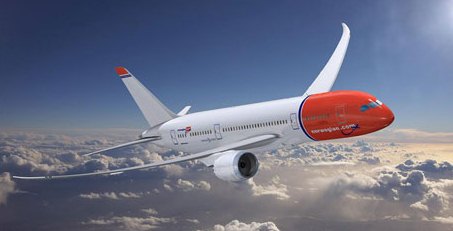 The 787 Dreamliner is a newly designed aircraft that has low operating costs, and emits 20 percent less emissions than similar aircrafts, which is one of the reasons Norwegian is able to offer cheap flights.
What does the interior look like?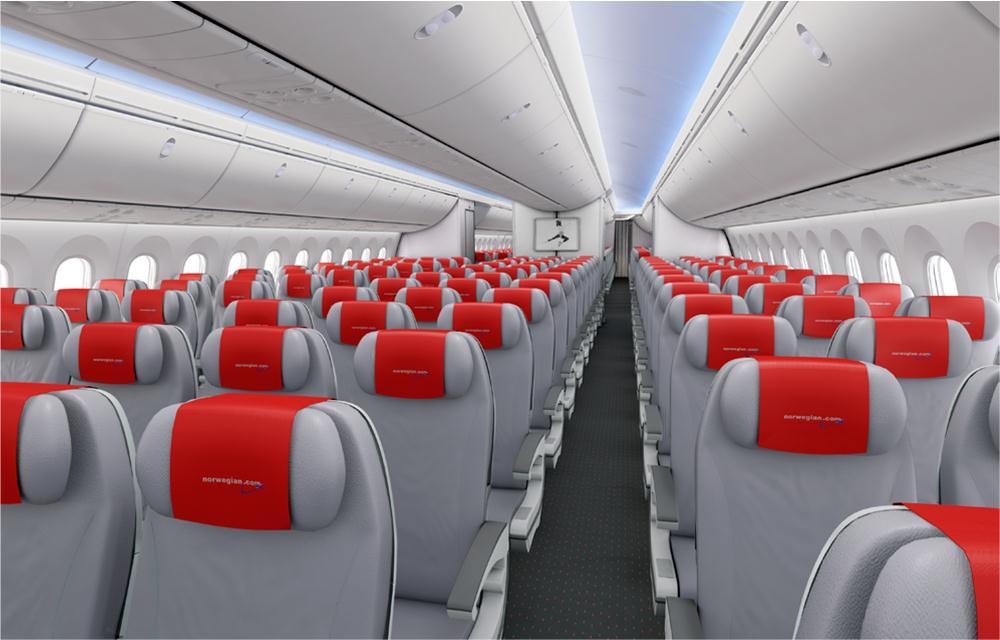 The interior is set up very similar to other long-haul flight aircrafts. The major difference on Norwegian is that everything looks and feels brand new, which it basically is.
In-Flight Entertainment: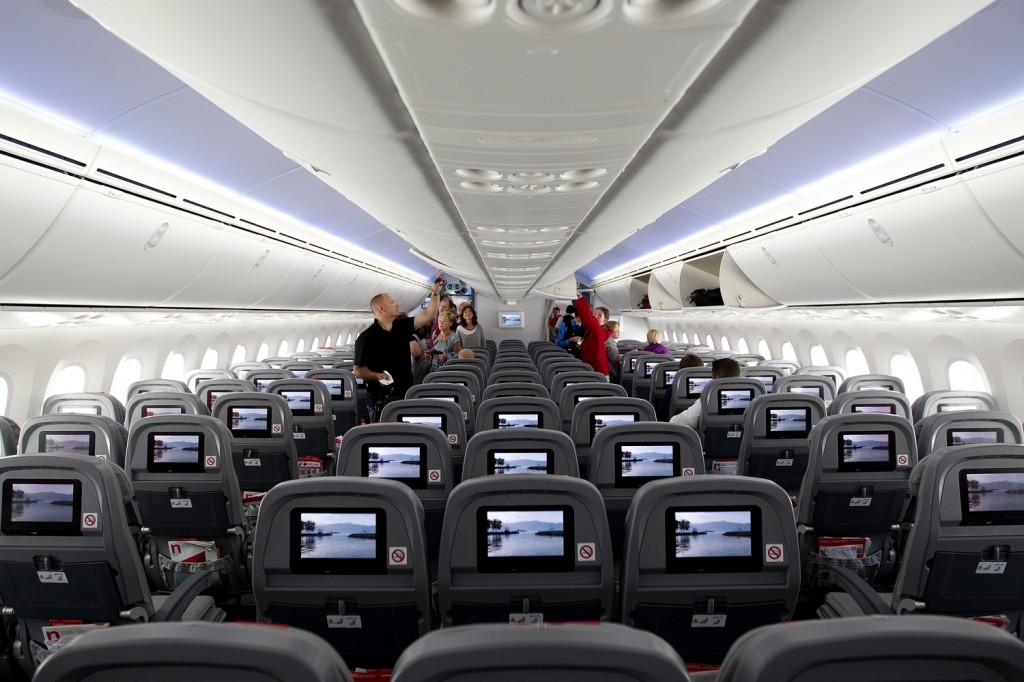 Even though Norwegian offers cheap prices, they don't skimp on the entertainment unit on the back of every seat. Personally, that's a must for traveling these days.
Dimmable windows: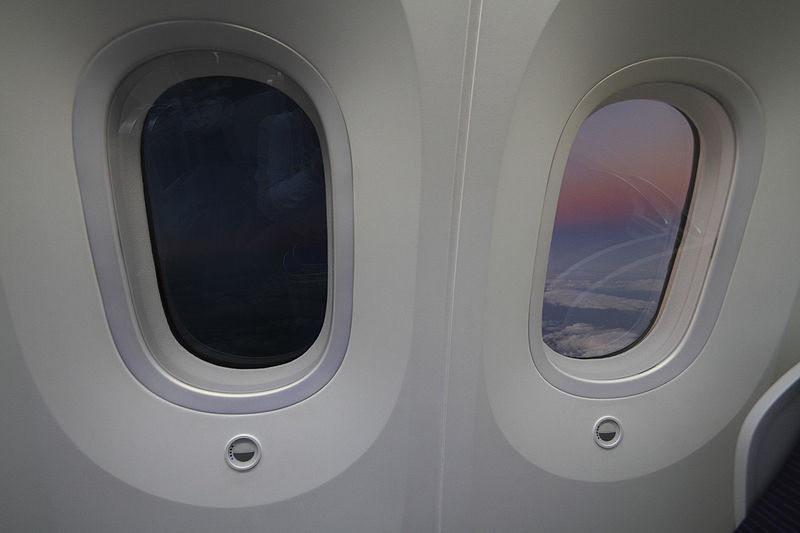 One of the cool features in the new 787 Dreamliner is the large, dimmable windows, which makes the Norwegian aircraft feel very modern and high tech, compared to other airlines. The windows are more than 30 percent larger than other similarly sized planes, and passengers are able to control the light coming through their windows with the touch of a button. Before I flew Norwegian, I read about their new windows, and I couldn't wait to try them out!
The Downside to Flying on Norwegian
The 787-8 Dreamliner I flew on with Norwegian was basically brand new, and I could definitely tell. However, even with their new high tech features and their sparkly clean aircraft, after flying with them, it's very noticeable that Norwegian is a budget airline.
After trying out the new windows, I personally don't care for them. I quickly wished I could have had the old-fashioned pull down windows. The dimmable windows is a great idea. However, in reality they didn't work how I thought they would. I could never get my window to go completely dark, which was frustrating when I was trying to get some much needed sleep. Also, it seemed as if the flight attendants had control over the windows, which they probably did. The windows would automatically get brighter at different times, and there was no way I could make it darker. That left me sitting uncomfortably in the blinding light for some time. So, although it's a cool design, I prefer to have a bit more control over the window.
You can forget about getting a free headset, free travel blanket, and free amenity kit (with a toothbrush, toothpaste, eye mask, socks, etc). Unlike other airlines, which provide these items free of charge, you'll be paying for them on Norwegian.

Headset: $3
Travel Blanket: $5
Amenity Kit: $25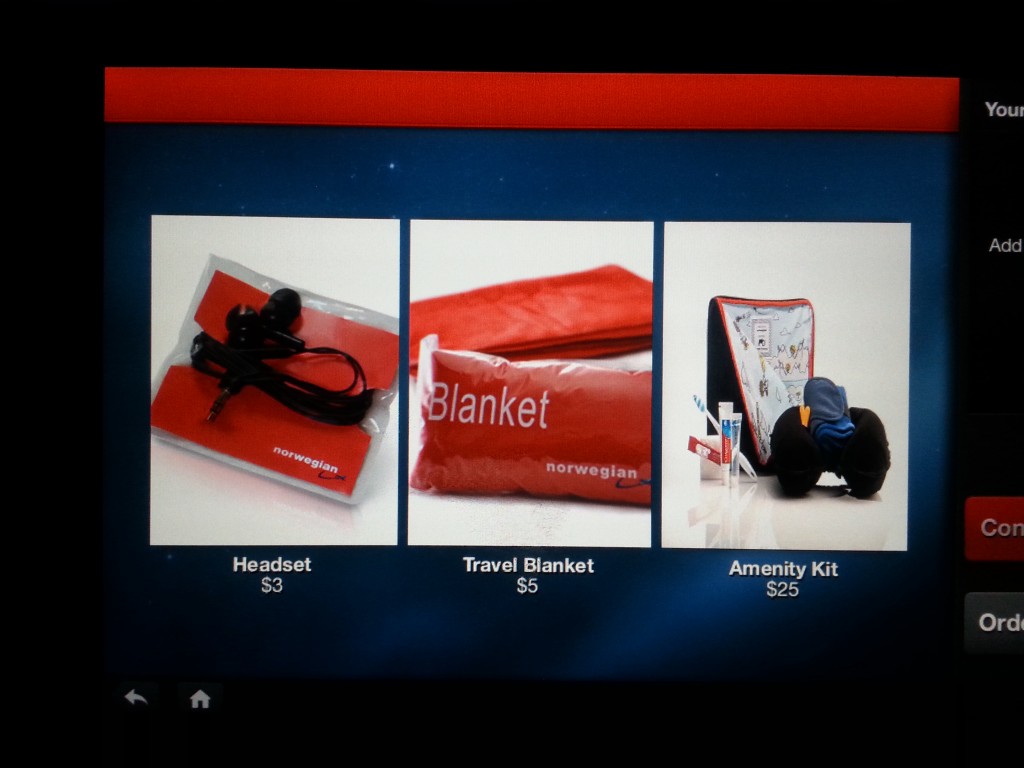 The in-flight entertainment unit didn't allow me to begin watching any shows or movies until one and a half hours into my flight. Other airlines let you start watching a movie as soon as you sit down in your seat. (Longest hour and a half of my life…. mainly because I didn't understand why we couldn't use them. The flight attendant said we would be able to use them "shortly". Yeah, right.) Also, I noticed that the in-flight entertainment units didn't seem to have quite as many movie choices as other long-haul airlines. However, they had a decent enough selection of new movies.
While on the flight, the flight attendants were continuously trying to sell to the passengers. I realized later that they they didn't allow us to use the entertainment unit for the first hour and a half of the flight because they wanted our undivided attention in order to sell us everything they offer. Headsets, blankets, pillows, amenity kits, food, drinks, alcohol, etc. They even came around later selling cosmetic products. I've been on other flights that try to sell to their passengers, but they weren't nearly as sell-oriented as Norwegian.
The in-flight meal was pretty gross, and that's saying something coming from me. I am one of the least pickiest people when it comes to food, and the in-flight meal actually gave me a stomach ache. To be fair, I had the basic hot meal, and I didn't upgrade to a better meal. However, I still paid additional for the in-flight meal, so I expected that it would be somewhat decent. Usually the food on long-haul flights is pretty good, and I actually look forward to the meals. However, I wouldn't recommend the basic in-flight food on Norwegian. You'd be better off bringing your own food, airport food, or buying other food on Norwegian. They have lots of food options on the flight besides the hot in-flight meal, which you order ahead of time. (The in-flight meal came with the optional package I purchased, which included the meal, along with prepaid checked baggage and the ability to choose my own seat.)
The quality of the seats and armrests seemed cheaper than those of other airlines.
The service was a little slow, but the flight attendants were friendly.
Why none of that matters…
I really hate bashing on people, companies, or products, but I had to give an honest review of my long-haul Norwegian flight to Europe. Although the aircrafts of Norwegian are new, they are definitely not perfect. Norwegian is able to offer cheap flights because they are a budget airline! If you've ever flown oversees on British Airways, Virgin Atlantic, or Cathay Pacific, you'll immediately feel the difference. Would I prefer to fly on one of those airlines over Norwegian? Absolutely. However, none of Norwegian's flaws really matter to me, since I was able to get a $263 flight from the States to Europe. I don't know of any other airline that offers that. For that reason alone, Norwegian will always be my first choice in searching for long-haul flights to Europe.
If you're looking for a cheap flight to Europe, without all the frills other airlines provide, Norwegian is your best option.
Don't Forget to Subscribe to BlondeChickTravels: