As you know, flights to Europe from the States can be pretty pricey. Fortunately for us, there is a new airline, Norwegian Air, that has unbelievably cheap flights from the States to Europe, and vice versa. I first heard about Norwegian Air about a year ago from a friend who had bought a round trip ticket from Florida to Copenhagen for $300! That's not possible, right? Well, that was my first reaction, but after searching for flights myself, I discovered that those cheap flights really do exist. Now, granted, my friend went abroad in December, so expect prices to be a little higher in the summer. Still, though, it's hard to beat the prices that Norwegian Air offers.
This past spring, I was searching for cheap flights to Europe that left in May. Since I planned on spending 3 months backpacking Europe, it didn't matter to me where I arrived in Europe. I just needed a cheap flight over there. Once I arrived in Europe, I knew I could easily take a cheap bus, train, or flight to wherever I wanted to go. I just couldn't afford to spend $800 on a one-way flight there.
Well, thanks to Norwegian's cheap prices, I was able to buy a one-way ticket from New York to Norway for $263! Thank you, Norwegian Air.
Don't believe me? Here's my booking confirmation: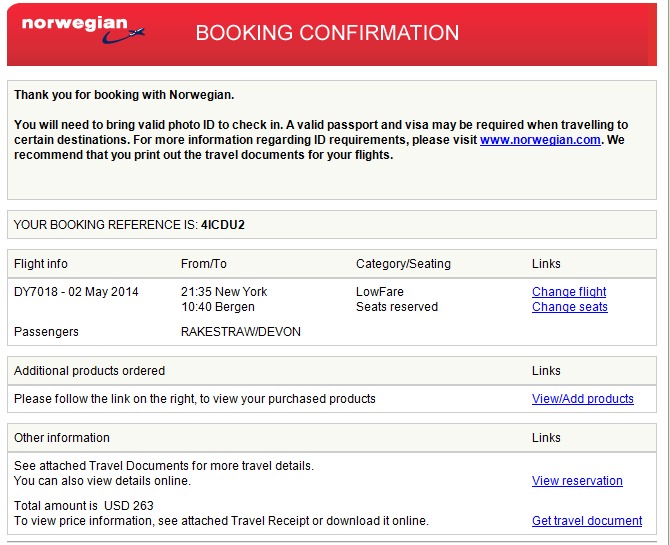 (My flight from JFK to Bergen, Norway for $263 on May 2, 2014.)
Flight Cost Breakdown:
The initial flight cost was $186.10. There is an optional package that you can choose to purchase, which includes an in-flight meal, prepaid checked baggage, and the ability to choose your own seat. The optional package costed an extra $69.50 (prices vary a little). I decided to purchase it, mainly because I wanted to choose a window seat (and also because I didn't want to get stuck with the middle seat for 6 hours). The total cost of the ticket came to $262.60, including a $7 credit card fee. If I had decided not to buy the optional package I could have gotten my ticket for around $190. Not bad for a flight to Europe!
So, I bet you're wondering how to get a great deal like this…
Where does Norwegian fly (long-haul)?
(The map above doesn't show all long-haul flights available, but it does provide a good general idea.)
Norwegian flies to and from these U.S. airports:
Fort Lauderdale/Miami
Orlando
New York
Los Angeles
San Francisco
If you don't live close to these cities, it's probably worth taking a separate flight to stop in one of them, and then fly with Norwegian Air to Europe.
Cheapest European cities to fly into from the States:
The cheapest flights from the U.S. to Europe, with Norwegian Air, tend to fly into Bergen, Oslo, Copenhagen, Stockholm, and London. Although, there are over 50 European cities that you could fly into from the U.S.
Tips:
It really helps if you're flexible on your dates. You could save hundreds of dollars just by leaving a few days earlier or later.
Check Norwegian's low fare calendar to find the cheapest prices.
Click on the "Flights" tab on Norwegian's homepage. From there you're able to see all the destinations you could fly to from a particular city, and how much it would cost. (You can also filter by month, maximum price, etc.)
Before you know it, you'll be on your flight to Europe!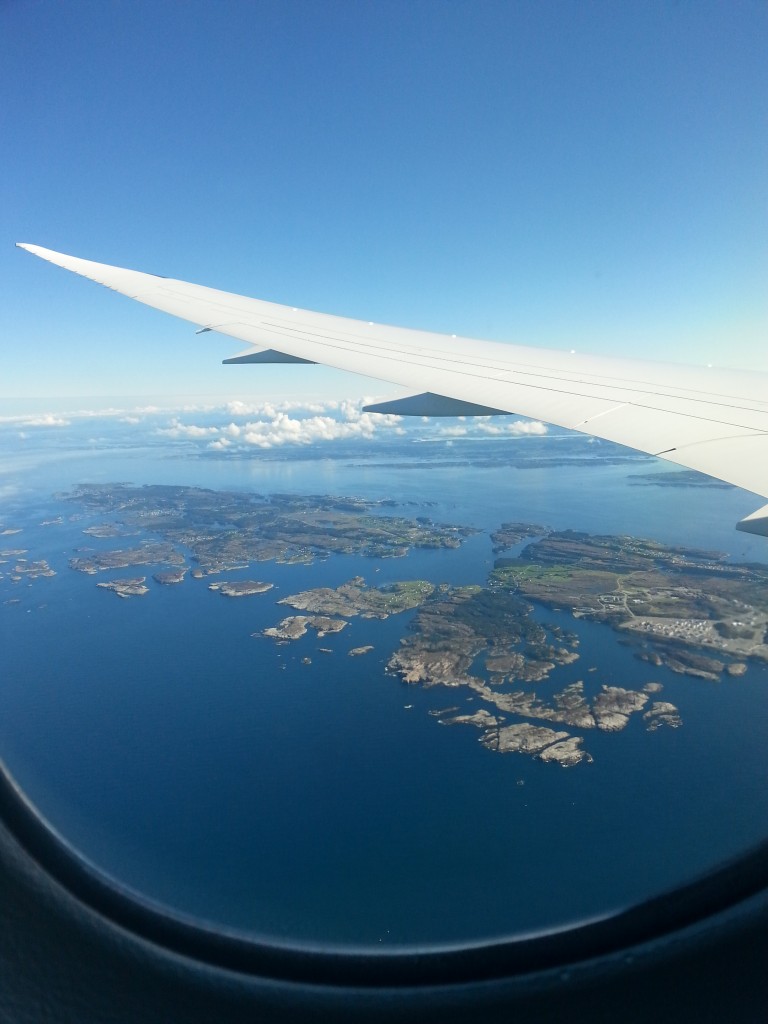 (My flight from JFK to Bergen, Noway. Beautiful scenery, as we descended into Bergen Airport.)
Getting to Europe is just the beginning…
Don't Forget to subscribe to BlondeChickTravels: