(The post refers to my London visit in May 2014.)
I arrived in London for the second time, unintentionally. I needed to fly from Norway to Istanbul, but the cheapest flight I could find was via a long stopover in London. Not the worst place in the world to have a long gap between flights. I arrived into London (Gatwick Airport) at 10:15am and my flight to Istanbul wasn't until 1:40am the next morning from London's Sansted Airport. Now, I could have waited around in airports all day long, bored out of my mind. Instead, I decided to take advantage of being in London, and spend the day sightseeing. It had been two years since I had first visited the city while on my first backpacking trip through Europe. It felt great to already be a little familiar with the airports, the city and the Underground Tube. With a whole day to explore, I was curious as to what all I could do in one day in London.
Getting to central London…
I took the EasyBus from Gatwick Airport to central London (Earl's Court). It takes a little over an hour to get into central London via EasyBus from Gatwick. It's probably the cheapest way to get into the city with fares starting at £2. However, I paid about £10. From Earl's Court, I took the Tube to Victoria Station and then walked to the Victoria Coach Station. I bought a bus ticket to Stansted Airport for later that night, and was also able to store my luggage at the station for a few quid. I definitely did not want to lug my pack around London for the whole day. (I just needed to be back by 10pm to collect my luggage before they closed.)
Free to explore London…
Once I had stored my travel pack at the coach station and bought my bus ticket for later, I was free to explore London. Since I had been to Europe before I knew the places I wanted to visit again. After topping up my Oyster Card (see below), which I had unintentionally saved from my previous trip, and checking the map of the Underground Tube, I was ready to sight-see.
Note: Make sure to download any apps you may need (like an app of the Tube map) on your phone before arriving in a new city. You can do so with your hostel's WiFi the night before you leave.
What's an Oyster Card?
If you're not familiar with an Oyster Card, it's a card you can buy in London for about £5. It's cheaper than constantly buying one-way tickets on the Tube. It's also a lot faster, since you can just scan the card and go through, without having to stop and buy a ticket every time. You can also use Oyster cards on the buses in London, as well as other means of transportation. (A nice perk is that you get your £5 back if you return your card at the end of your trip.)
So what all can you do in one day in London?
With one day in London, you can walk through the city and explore almost all the main sights. You won't have much time to go into the places, but you will get a great feel for London as a city. You'll hear the British accent on the streets, see the famous red phone booths, have a chance to try Fish & Chips in an English pub, and soak in the beautiful architecture and the iconic landmarks. Of course, one day in London is hardly enough for a first trip to London, but it's great for a stopover!
In one day, I was able to visit:
Buckingham Palace
The Houses of Parliament
Big Ben
Westminster Abbey
Piccadilly Circus
St. James' Park
Hyde Park
London Bridge
Trafalgar Square
British Museum
If you time it right, you could also take a free walking tour of London at either 10am, 11am, or 2pm. Another great thing about traveling Europe during the summer is that it doesn't get dark in northern Europe until 10pm or later. So you have plenty of daylight for sightseeing. To cover all the places above in one day is pretty exhausting, but it can be done!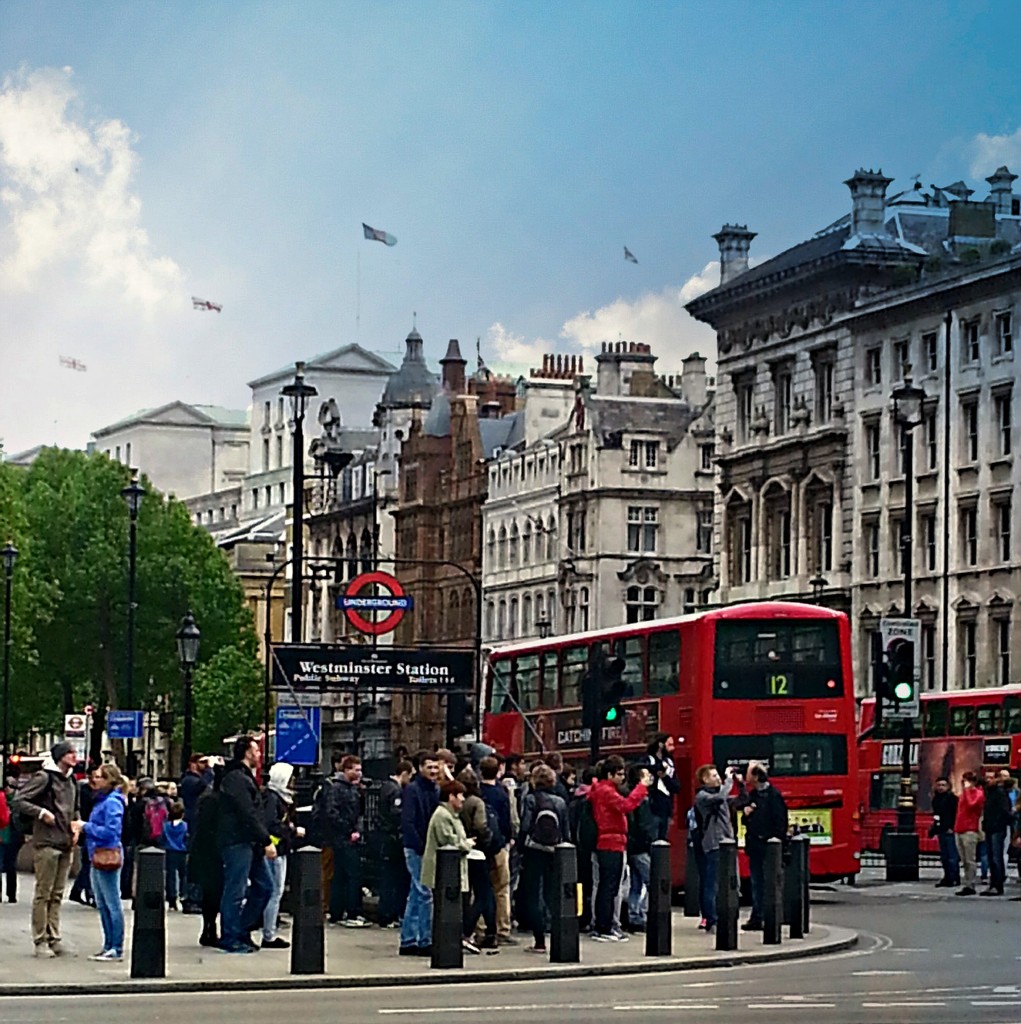 Getting to the airport…
I made it back to Victoria Station, right before 10pm to collect my luggage. I was so thankful I made it back before they closed because that would have been a nightmare! After an hour and a half bus ride to the airport, I was on a red-eye flight to my next destination: Turkey!
Read: Hot Air Balloon Ride in Cappadocia, Turkey
Planning a trip to London? What you looking forward to most?