You've decided that you're going to Europe! Congrats on making the big decision! For many people, Backpacking across Europe is just a dream. One they never turn into a reality. Well, they are missing out! Trust me, I know it. I thought about going for so long before one day I just decided that regardless of the cost, regardless of the fact that I had no one to go with, and regardless of what any of my friends or family thought, I was going to Europe! And that's what I did! Of course it wasn't quite that easy.
Okay. So now that you've decided to backpack through Europe, you need to figure out the perfect route for yourself. Well, keep reading to find how to plan your ideal backpacking route through Europe in six easy steps!
Step 1: Find and print out a map of Europe! 
Below is my favorite map of Europe. I love it because it's a large map, and colorful! (Note: Instead of printing it out, you can also open it on Windows Paint.) Click here for map.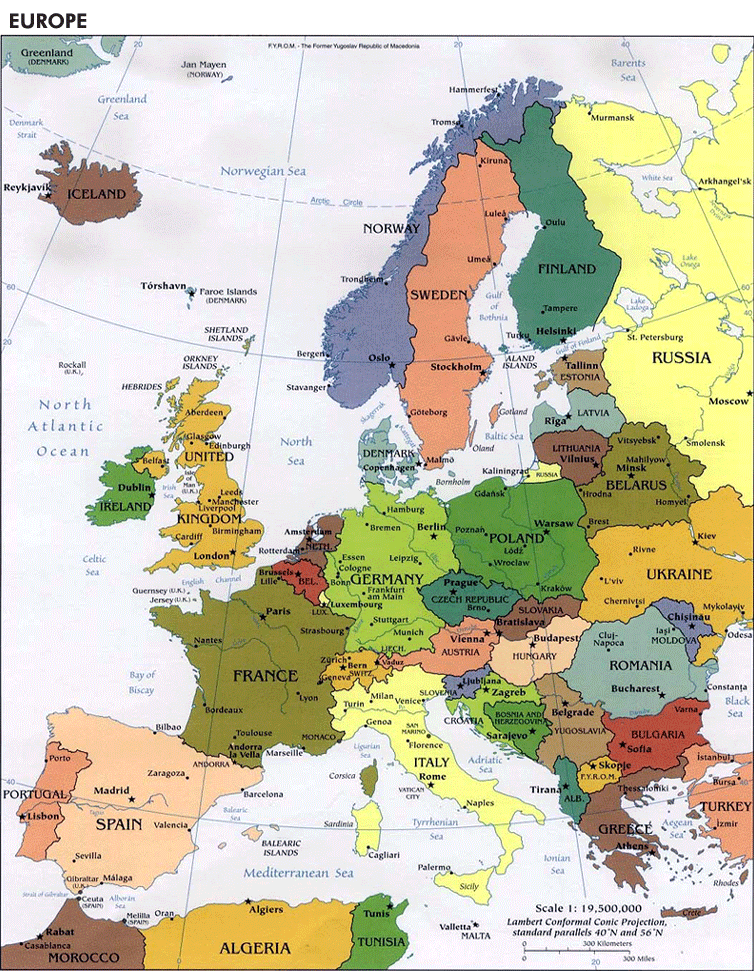 Step 2: Now that you have a map… pick your "MUST SEE" cities!
This the fun part! I'm sure you've thought about the places you want to visit the most! What is it about Europe that makes you want to go there so badly? Are you dying to have a picnic under the Eiffel Tower, watch the changing of the guards in London, fall in love in Rome, take a gondola ride in Venice, party hard in Amsterdam, go parachuting in the Swiss Alps, soak in the sun at the Széchenyi thermal baths? Of course you probably would love to do it all plus more, right? Well, for this step just pick your absolute "MUST SEE" cities. Ask yourself, "If I don't see City A, City B, City C, etc., it's not worth going. Those are your "MUST SEE" cities! Circle them on your map!
Example:
Say for example your "MUST SEE" cities are:
London
Paris
Rome
Venice
I've circled them below!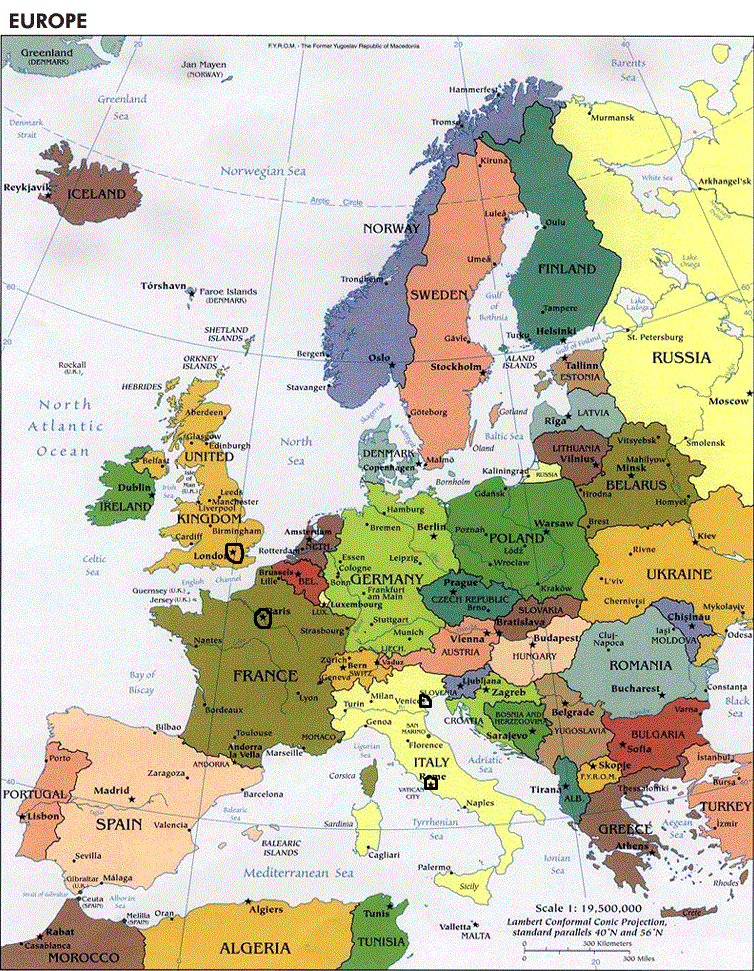 Step 3: Check for Flights into/out of Europe!
Since you now know the cities you are definitely going to, you can check for the flight that will get you to Europe, and then back home. (Don't book your flight just yet. You only want to get an idea of the cost, and which cities you should fly into/out of in Europe. Although you could get a ticket into one city, and another ticket out of the last city you visit, you'll usually save money if you get a round trip ticket.
Regardless of which cities you want to visit, London usually has significantly cheaper RT airfare. Once you arrive into London, you can use cheap European airlines, such as, easyJet and RyanAir, to get to your destination. (Be careful with their strict cabin carry on rules, though). Make sure you check flights into other European cities as well, because occasionally you can get a good deal into another European city, which may fit better with your destinations/route. I highly recommend using skyscanner to search for flights. I just love their website! They include basically every airline in their search, and you can even put in a country as the destination, and they'll show you the cheapest cities to fly into for that country.
Start checking flights as soon as you know your dates! I starting checking RT ticket prices 7 months prior to leaving. (I left for my trip in May 2012). The cheapest RT ticket I found then was East Coast US to/from London for $690. That was about 3 1/2 months before I left. The most expensive RT ticket from the East Coast US to Europe I found was around $1000. So keep in mind that the prices do fluctuate. If the price is good, jump on it! I missed out on booking my ticket at $690 because I  thought the price would decrease a little more. Instead, it increased, and I payed about $100 more for my flight.
Once you know where you want to fly into/out of, circle your arrival and departure city if it's not already one of you "MUST SEE" cities. For my example, I'll make London the city of arrival and departure.
Step 4: Connect the points!
In the most logical fashion, connect the points. Keep in mind if there any specific festivals or events happening in any of those cities that you want to attend, and plan accordingly.
My example below is just one possibility. You could also do the reverse route. Whether you travel clockwise or counter-clockwise around Europe, there will always be other backpackers traveling the same route as you!
Step 5: Make Sure Your Route is Doable!
    Since you are probably traveling with a budget, you want to find the cheapest possible travel options. You are most likely limited by time, as well, which is another important factor to consider. While backpacking you will constantly be faced with a trade-off between time and money, which of course is something you face in everyday life too. Unfortunately, there's no escaping that one. You will have to decide if you'd rather save money and spend more time on the train, or spend more on a flight, but gain more time in the city. It's up to you! Hopefully, you can find a good balance between the both.
In order to check if your route is feasible, make sure to check the different options of getting from City A to City B. You want to make sure that there is a way to get to the next city, which doesn't chew up too much time, or cost an arm and a leg. (While planning my real trip, I wanted to go from Venice, Italy to Bern, Switzerland on an overnight train to save time. Well, that route doesn't exist! All trains from Venice to Switzerland stop in Milan for a transfer. So I had to factor in the added time, about 8 daylight hours, into my plans. When you're strapped for time, money, or both, it's important to plan ahead and foresee any potential obstacles.
A lot of people who plan a trip to Europe, try to fit in as much as physically possible. I mean, hey, you're spending so much money on the trip already, so why not get the most you can out of it, right? Well, I completely agree! It's your trip, after all! But you do want to make sure it goes the way you planned once you get over there. Meaning no unwanted surprises!
In order to prevent any unfortunate surprises do the following:
1. Plane option:
A. How long does it take to get from your hostel in City A to the airport in City A?
Sometimes you'll be surprised how long it can take. Especially if you book the really cheap RyanAir and easyJet flights, which sometimes have airports an hour outside of the city. Plus, you have to get to the airport at least an hour before your flight leaves. So take all that into account.
B. How long is your flight from Airport A to Airport B?
C. How long does it take to get from the airport in City B to your hostel in City B?
-Keep in mind that you are traveling to cities you've never been before, foreign cities nonetheless, so it may not be as easy as you might think to get from the airport to the hostel. It helps to research ahead of time to find the best way to get to your hostel, and have a map handy. Usually the hostel will provide directions, but they are not always the easiest to follow. You will more than likely have to take the metro, a bus, a train, walk, or a combination of them all, in order to get to your hostel. Factor in getting lost too. I mean, it would be one thing if you could just ask the people around you which metro line you need, or which bus (out of the 10 around you) to take, or which street (the name you can barely pronounce btw) you need to get to, but did I mention you're in a foreign country? Just imagine you're going to New York City, but no one speaks English, the majority of signs are in a different language, and you have to figure out how to get to your destination. It's kind of like that, but only more difficult!
2. Train Option:
-Repeat steps A-C above.
3. Ship Option:
-Repeat steps A-C above
Step 6: Depending on Time, Choose Additional Cities to Visit!
By now you should have a pretty rough idea of how many days your "MUST SEE" cities route will take, including travel time. Now you can decide if you have time to visit more cities in Europe. If you do have time to go visit more places, then count yourself very lucky, and repeat steps 2, 4, and 5 until you have your perfect "Backpacking Europe" route designed specifically for you!
That's all there is to it! In six super easy steps you can now plan your ideal backpacking route through Europe. You're that much closer to having the time of your life in Europe, seeing places you've only imagined, and experiencing things you've only dreamed of!
Ready to create your own backpacking route? What are some of your Must-See cities?!