People tend to think that traveling Europe is really expensive. They tend to push the idea out their mind before they even give it a chance. Of course, if you plan on traveling 1st class, staying in 5 star hotels, and eating at expensive restaurants the entire trip, expect to be paying some big bucks. However, if you're okay with traveling 2nd class, staying at hostels in 20-bed dorms, sleeping on a stranger's couch, and cooking your own food, traveling Europe is actually a possibility for the average, young, wanna-be-traveler.
While you can't really put a price tag on the kind of life-changing experiences you'll have by backpacking Europe, you still need to fund your travels. It's not free by any means, but you can make it affordable. If you're dying to travel Europe, but you're low on funds, just know that is really IS possible! Plus, the benefits of traveling Europe, far outweigh the cost.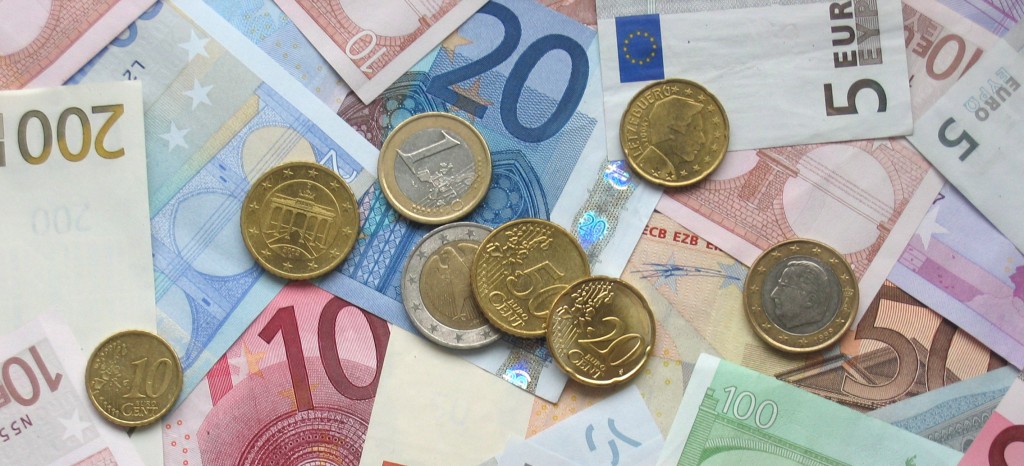 How Much Does it Really Cost to Backpack Europe for 2 months?
In the summer of 2012, I spent 7 incredible weeks (49 days) backpacking all across Europe. I went to over 20 cities in 14 European countries ranging from Ireland all the way to Greece, took 15+ trains, 10 planes, and 4 buses. I stayed in 23 different hostels across Europe, met people from over 30 different countries, and had countless experiences I'll never forget.
Read: 2 Months Backpacking Europe Route: 14 Countries, 30 Cities in 49 days
Before I left on my backpacking trip, I was dying to know how much it really costs to backpack Europe for 2 months. I did a ton of research trying to find out the actual cost. I found a lot of different budget guidelines, but it wasn't what I was looking for. I wanted the real numbers! I was very grateful for the few people who took the time to share their valuable spending information. It helped me tremendously in figuring out my budget, so I decided to do the same. It's a great way to see if you're budgeting enough for your trip!
My Pre-Travel costs were basically nothing. The majority of the things I needed for my trip I got for Christmas and my Birthday, so I only spent around $100 more to get some last minute things. I definitely recommend asking for travel related things for you birthday and other holidays before you leave on your trip. It will greatly reduce your Pre-Travel cost, and allow you to spend more money on the fun aspects of you trip!
Main Transportation Costs



-Round Trip Flight to/from Europe: 777.62
-In Europe Travel Cost (city to city):
-Plane Travel: 803.40
-Train Travel: 845.53
-Bus Travel: 27.31
Total: $2,453.86
Daily Costs USD 

(for 50 days)

:
-Hostels: 1,578.79
-Food (inc. alcohol, which was very minimal): 1,619.50
-Attractions (tours, museums, etc): 558.35
-Local Transport (metro, local bus, local train): 393.10
Total: $4,149.74
(Note: I made ATM withdrawals equal to $2341.80 during my 7 week trip that went toward the Food, Attractions, and Local Transport categories. Unfortunately, I did not keep a record of my cash expenses while traveling, so those categories are rough estimates based on my credit card statements and the best of my recollection.)
(shopping, necessities on the road, etc)
(currency conversion, foreign transaction fees)
Total Cost: $6,836.67 USD / $136 per day (including everything)

My 2 month Europe trip cost me well over 6K. It's a bit shocking at first, right?  I know it probably seems like a LOT of money to spend, especially if you have practically zero saved up so far. If you're starting to lose hope after seeing my cost breakdown, know that you can easily spend less than what I spent.
 Hindsight is 20/20…
Looking back, I wish I would have been more budget conscious. I could have stayed in cheaper hostels, traveled by bus instead of by train, cooked more food at the hostel kitchens instead of eating out, among other things. I definitely spent more than I needed to. It's easy to get caught up in spending money while traveling, especially in the beginning when you have money in the bank. As your money starts dwindling, you start becoming a lot more conservative, naturally. If you can get in that mind set from the beginning, you'll spend much less.
Read: Best Backpack For Backpacking Europe
Create a budget/itinerary that is right for you.
You don't have to go for 2 months, or to 20+ cities to experience Europe. You can get a great feel for Europe in just a few weeks by visiting well known cities like London, Paris, Rome, Venice, Amsterdam, etc, and it'll cost you significantly less than what I spent. If you'd prefer to spend more time in Europe, another budget friendly option is to try couchsurfing, or volunteering at a hostel in exchange for room and board. Keep in mind that the more frequently you travel, the farther you travel, and the longer you travel, the more expensive it will be.
Start budgeting for your trip!
I hope you can take my information and use it as a guide for your Eurotrip. First, decide when you will have time to travel. Then set a realistic budget for yourself, and work backwards from there. What do you need to do in order to save up enough money in time? You might need to make some serious lifestyle changes. Whatever you need to do, I highly recommend that you make this trip happen. It's beyond worth it!
Wondering where all I went in Europe for that price? Check out my 2 month route and itinerary ranging from Ireland to Greece, and almost everywhere in between. Can you only travel for a few weeks? Find out how many countries you can realistically visit in my 3 Week Backpacking Europe Route.
Need packing advice? My favorite travel packs are the Osprey Porter 46L
 and the Osprey Farpoint 55L
. If you need a travel pack that can fit on budget airlines, read about the Porter 46L pack here: Best Backpack for Backpacking Europe. If you'd prefer to have a pack with more space, and a detachable daypack, check out my Osprey Farpoint 55L Travel Pack Review. Not sure what to pack? I list out every single thing I packed and give helpful packing tips here: Backpacking Europe: Ultimate Packing List.
Can you set a realistic budget for backpacking Europe now? Do you need any advice?