Experiencing a hot air balloon ride has always been at the top of my bucket list. While in Istanbul in May 2014, I decided to travel to Cappadocia, Turkey to finally check it off my list. At first, I had considered making the journey to Cappadocia (Cap-uh-doe-key-uh) myself, but the hostel I was staying at in Istanbul (Bahaus Hostel – loved them!) recommended taking a tour there instead. I was really short on time, so the convenience of having everything planned and booked sounded great. The travel agent met me at the hostel and went over the different options for tours, and then I walked a short distance to the agency to book the trip once I had decided. There happened to be two Argentinean guys from my hostel who booked the same tour, so it was really nice to have other people to travel with.
The agency I used was EyeWitness Travel, and they coordinate tours all over Turkey. The tour I booked was a 2 day, 3 night round-trip tour from Istanbul to Cappadocia via a 10-12 hour overnight bus ride each way. Yeah… it really takes THAT long.
The tour included:
All transportation, including a shuttle from the agency to the main bus station in Istanbul
Full day North Cappadocia Tour – Lunch, admissions, and tour guide included
Full day South Cappadocia Tour – Lunch, admissions, and tour guide included
One night's accommodation in a cave hostel
Hot Air Balloon Ride
Day 0: Overnight Bus Experience
7:40pm – I was picked up from the local travel agency, which was walking distance from my hostel, and shuttled to the main bus station in Istanbul.
I was so glad I didn't have to figure out my own way to the main bus station, and which bus to get on!
8:30pm – 11 hour overnight Bus to Goreme (Town in Cappadocia region)
Buses are a very common mode of transportation in Turkey, and are heavily used by locals and budget tourists. Both buses I took were huge, air conditioned buses that were equipped with an entertainment unit on the back of each seat.
(Unfortunately, the movies and shows were only available in Turkish.)
A bus attendant came around a couple times to offer free cups of juice and crackers, similar to a flight attendant. There were stops in a few cities along the way to pick up new passengers, and at gas stations three times during the night, which also served as rest stops. You're able to use the restroom, grab a snack, smoke, and stretch.
On the overnight bus ride to Cappadocia, the seat next to me was empty, which made it much easier to sleep. I'm not saying I slept well by any means, but it wasn't completely horrible.
Day 1: Arriving in Cappadocia, Cave Hostel, North Cappadocia Tour

7:30am next morning – Arrived in Goreme (Arrival time varies)
A shuttle came and picked up the two Argentinians and I, and dropped us off at our hostel. The hostel had a delicious breakfast buffet for a reasonable price for a budget traveler. We enjoyed eating breakfast on their rooftop terrace, and relaxing after a very long bus ride.
9:25am – Picked up from the hostel for a full day North Cappadocia Tour
We were picked up from our hostel by our tour guide in a shuttle van, and met the other passengers we would be spending the next two days sightseeing with. The first day we did a loop around the north region, stopping at several different places to explore and to learn about the history. My guide was very friendly and informative, although, her accent was a little hard to understand at times. We had a nice lunch break, followed by more sightseeing. The day ended with a pottery demonstration, and a tour through a Turkish carpet factory where we were served warm Turkish tea. It was very interesting to see the women hand make the Turkish carpets. It is such a tedious process, which is why they are only able to work on them for a few hours a day, but the finished results are beautiful.
It, honestly, was a very long and exhausting day. The intense heat, and the fact that I had gotten little sleep on my overnight bus didn't help. I took advantage of the 20-30 minute drive to each stop and dozed off, as did the rest of the people on the tour. The sights were absolutely incredible, though.
For a complete list of the stops on the tour check out the itinerary from Eyewitness Travel.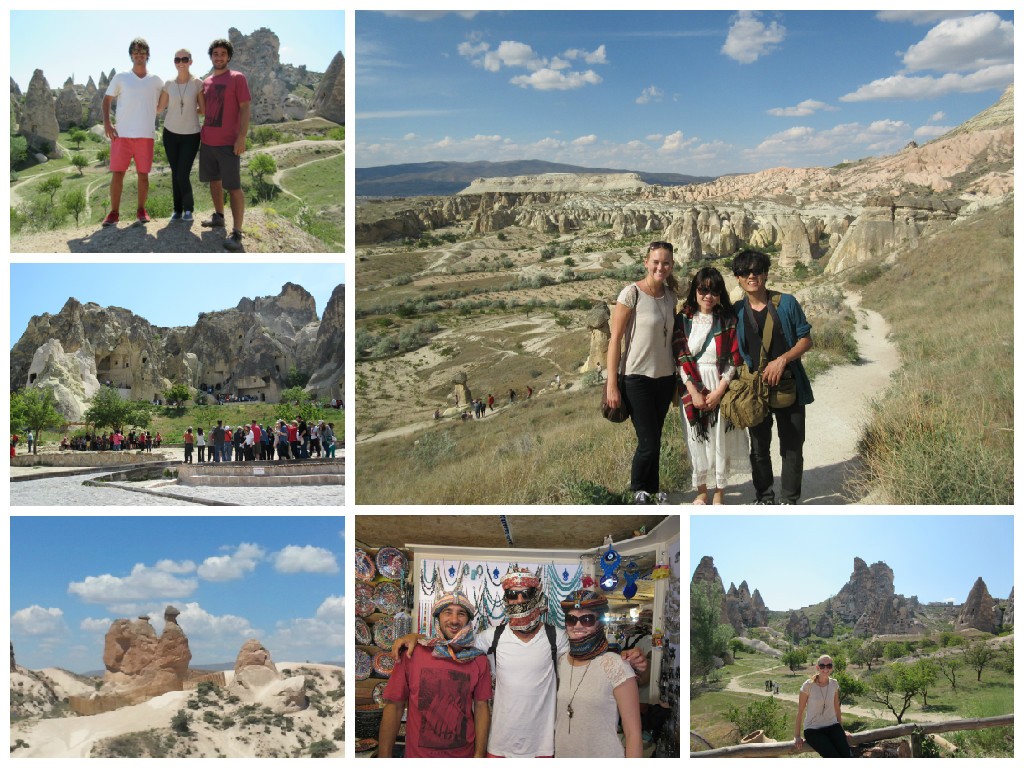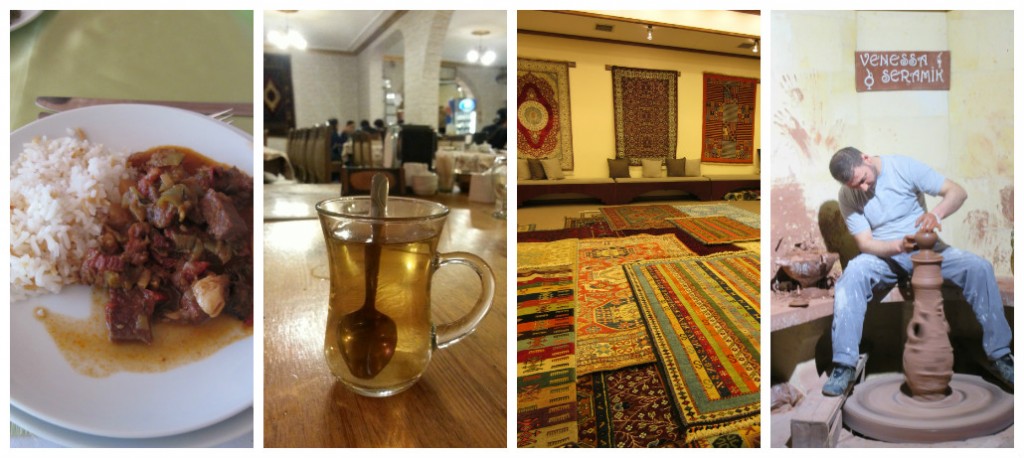 5:00pm – End of the tour. The shuttle dropped us off back at our hostel.
After napping for a couple hours, we explored the small town we were in, and got dinner at a local restaurant. After we returned to the hostel, I met a group of Americans who were traveling together, and we all went out for drinks. It had been awhile since I had talked to any Americans, and it was really nice to hang out with people from my own country for a night.
Day 2: Early Morning Hot Air Balloon Ride, All day South Cappadocia Tour, Overnight bus back to Istanbul
4:30am – Pick up for the Hot Air Balloon ride.
Make sure to double check your time with your travel agent when you book it. My itinerary accidentally said the pick up time was at 5:30am, instead of 4:30am! (The typical pick up time is 4:30am for most all morning hot air balloon rides.) I was woken up by the hostel receptionist banging on my door telling me that my shuttle was waiting for me. I was so beyond confused, not to mention exhausted from only getting about 2 hours of sleep, but I threw on some clothes and rushed out the door. Luckily, the shuttle didn't leave without me!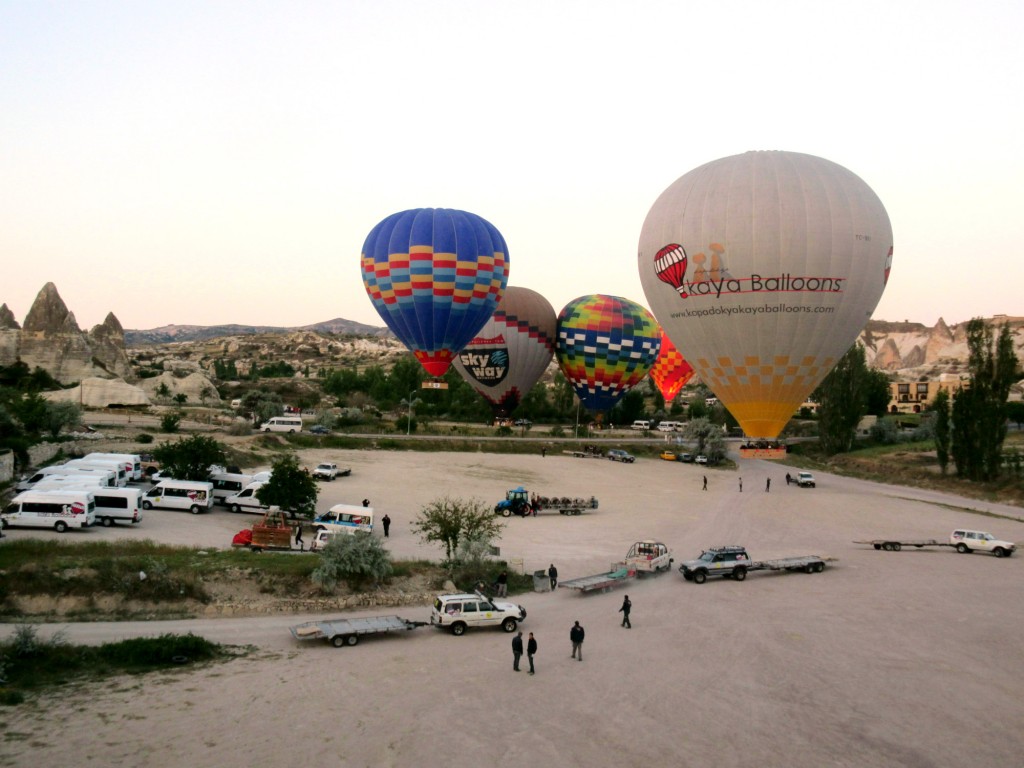 Actually the shuttle had gone and dropped everyone else off while I was getting dressed, and then came back to get me. Since I was late arriving to the hot air balloon departure, I was basically thrown into a basket, and away we went! (I was just SO glad I didn't miss it!)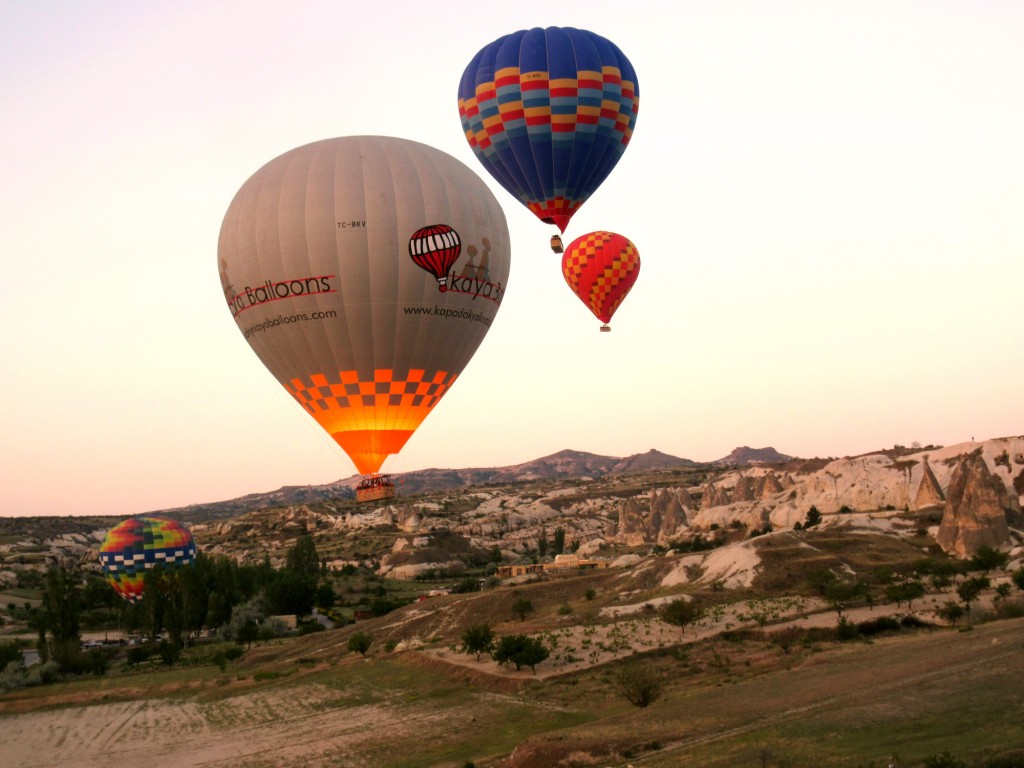 Words can't describe the experience…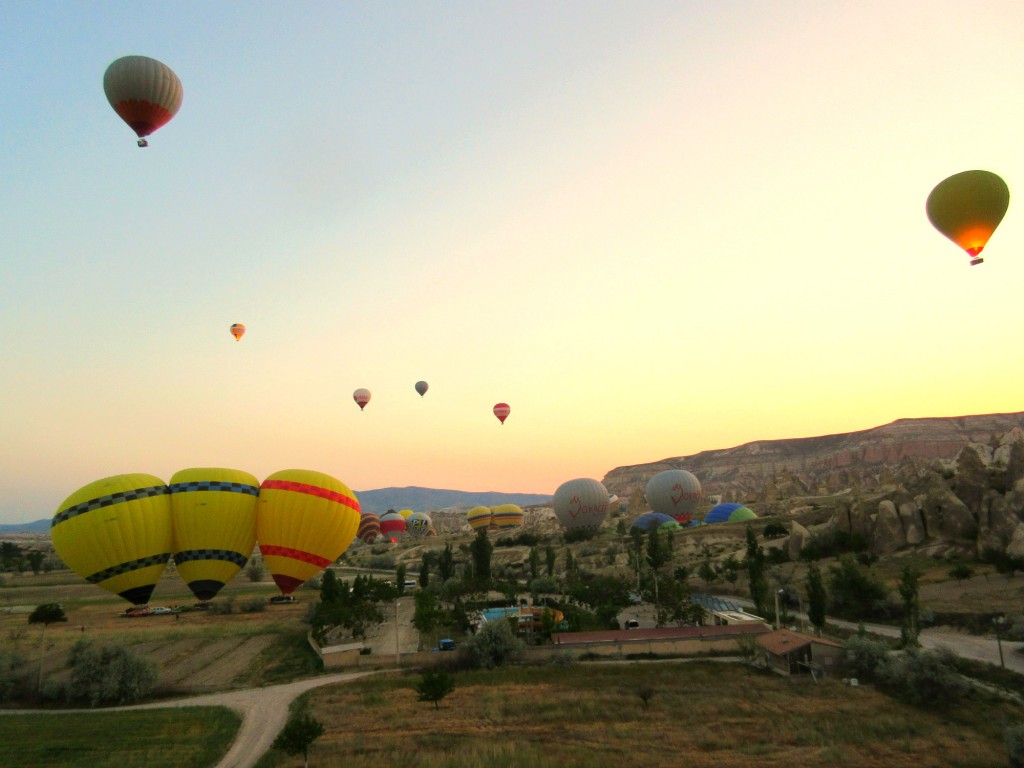 Since the flight takes place in the early morning, you get to witness the absolutely beautiful sunrise 1000 ft off the ground!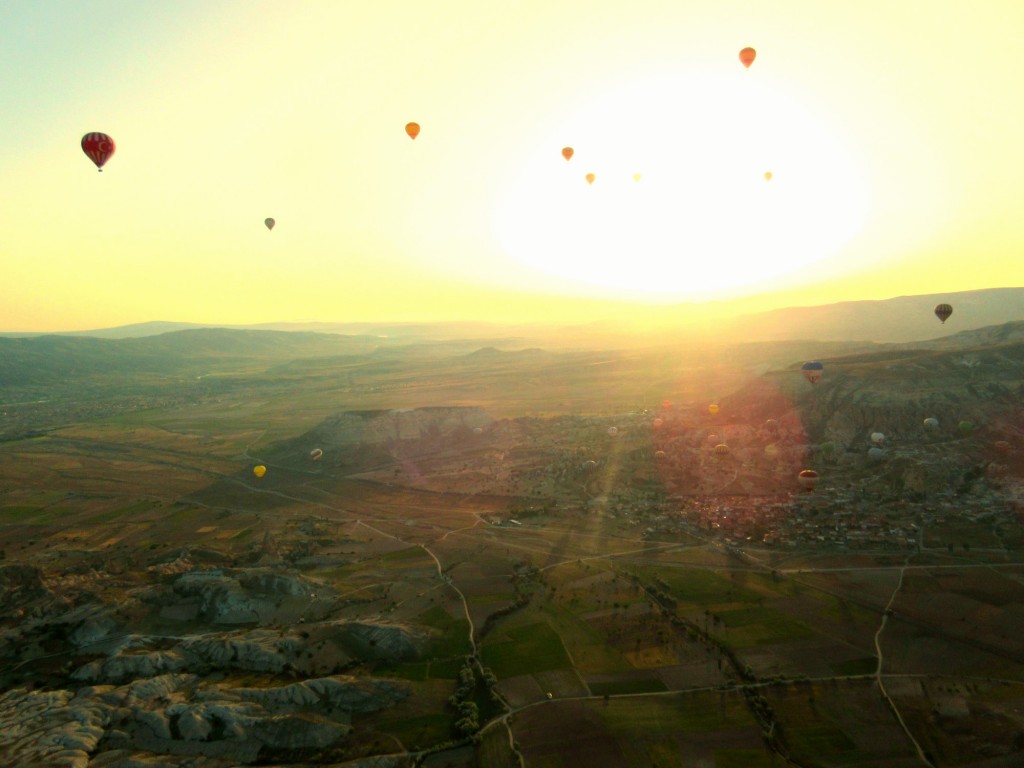 The hot air balloon ride last 50-60 minutes, and flies over the unique Cappadocia landscape of valleys and unusual rock formations, known as "fairy chimneys". It was such an incredible experience…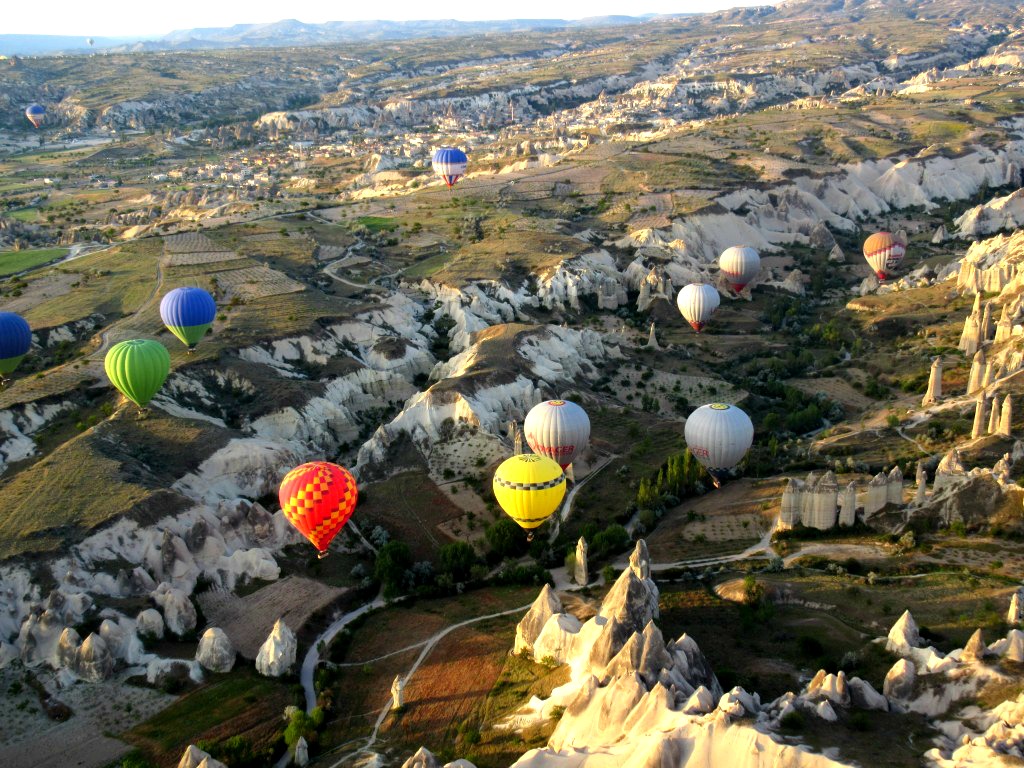 Cheers to another one checked off the bucket list!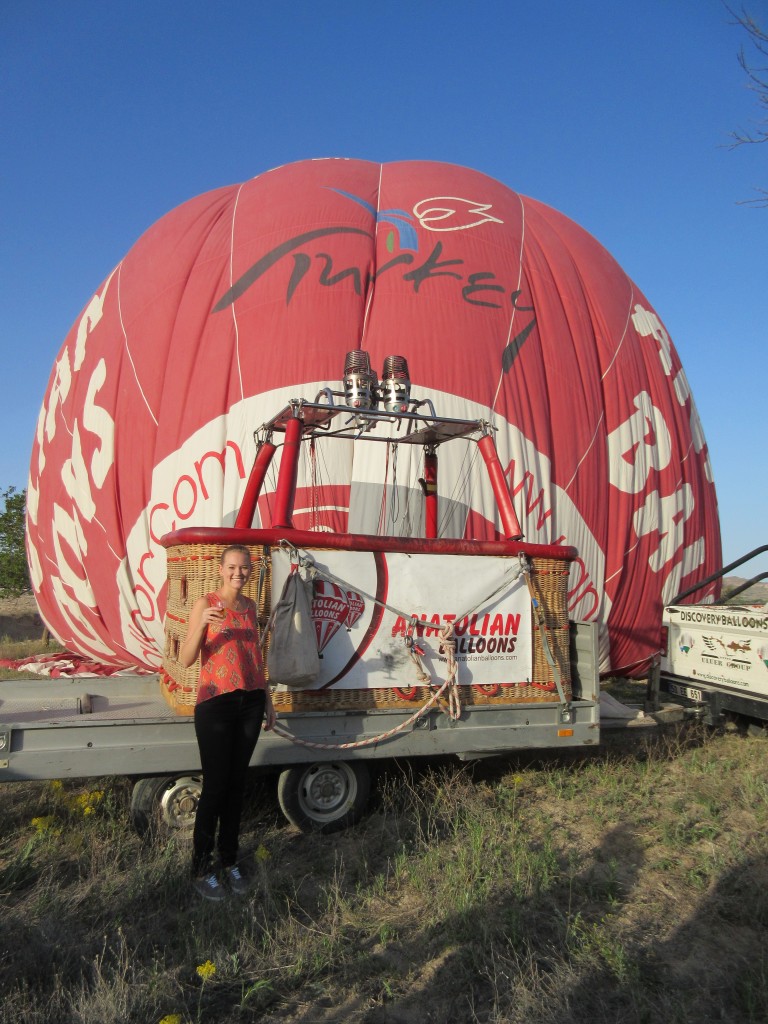 Note: Bring some cash with you. At the end of the trip, the guides do expect a $5-10 tip. They also sell the pictures they took of you in the hot air balloon when you took off and landed.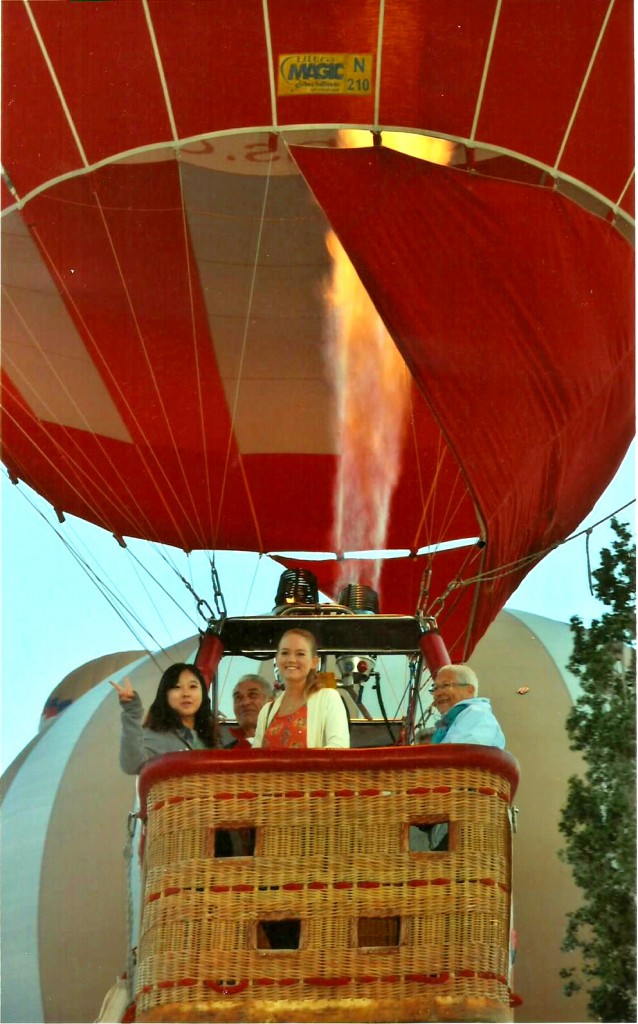 After your incredible hot air balloon flight, you'll be brought back to your hostel, where you'll have time to eat breakfast before you shuttle van arrives for the second all day tour.
9:25am – Picked up from hostel for the full day South Cappadocia Tour
The tour included exploring and learning about the history of the southern Cappadocia region. Along the way, we stopped at several places with incredible panoramic views, hiked for 45 minutes through a valley, had a much needed lunch break, explored an underground city, and more.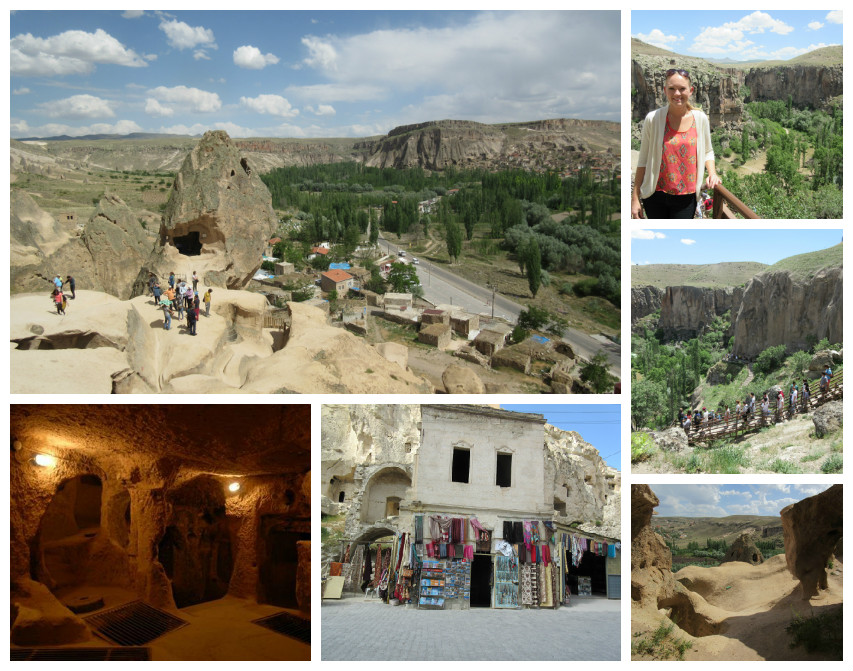 I can't tell you how exhausted I was that day, as was most everyone else. We all took naps during the 30-40 minute drive it took to get to the next stop on the tour.
4:00pm – The tour ended around 4-5pm, with some people on the tour leaving early to catch a flight. (They brought their luggage with them on the tour.)
7:00pm – Overnight Bus back to Istanbul
After grabbing our bags from our hostel, and food for the road, the two Argentinians and I made our way to the bus stop where all the other backpackers and locals were waiting for their bus. This is where I had to say goodbye to the Argentinian friends I had made. They were headed to Pamukkale, and I was headed back to Istanbul.
The bus took forever to show up, but it finally did.
Day 3: Arrival back in Istanbul
7:00am – Bus arrived in Istanbul
On the overnight bus back to Istanbul, I had the aisle seat which was absolutely horrible for sleeping. On top of that, the bus was packed, and I was so paranoid about theft. Needless to say, I woke up every couple hours.
For the price, I would still pick the overnight bus rather than flying. Keep in mind that even if you choose to fly, you'll still need to take a 1-2 hour bus ride to and from the airports in both cities.
Once I arrived back in Instanbul, I had to make my own way back to my hostel via metro. Getting back really wasn't all that difficult since I was already somewhat familiar with the city. Most all the passengers on my bus headed straight to the metro station, so I just followed them.
Was the Tour Worth it?
Ready for the sticker shock?
The tour cost 290 Euros plus tax, which came out to $440 USD at the time.
If you break the cost down individually, this is what it comes down to:
Hot air balloon ride cost 120 Euros or $160 USD.
Both the North and South tours cost 40 Euros each or around $110 USD total.
The overnight bus ride was 30 Euros each way, or $82 USD total.
A bed in the cave hostel was 10 Euros or $14 USD.
Total: $366 USD
There may be tax I didn't figure in. If the tax is already included in those separate prices, then I paid $74 USD extra to book through a travel agency.
In my opinion, it was totally worth it.
Since it was my first time in Turkey, as a solo female traveler, and I was really short on time, I am VERY glad I did this tour. Everything was all planned out, and all I needed to do was follow the schedule. If I had not gone through the travel agency, I probably wouldn't have even done the Northern and Southern tours, and I would have really missed out on a lot that the region has to offer. The hot air balloon ride was much more meaningful after spending the previous day learning the history and exploring the region I was flying over!
Now that I'm more familiar with the transportation in Turkey, I might attempt to figure out my own way around the country. Although, going on a tour is a such a great way to make friends. It's a toss up.
What to wear/bring?
I went in May, and it was slightly cool in the mornings and late evenings, but was pretty hot during the day. After being in Istanbul for a few days, I was so used to covering up out of respect for the cultural, but mainly because I was trying to avoid the unwanted attention I was getting from the Turkish guys. However, wearing jeans in that weather is not something I would recommend. You could easily get by wearing shorts, and even tanks, in Cappadocia because it is such a touristy place.
Since my tour was only a couple days long, I decided to leave my huge, heavy travel pack at the hostel I was staying at in Istanbul. I was able to fit the huge thing in a locker, and just brought my day pack with a change of clothes, some toiletries, camera, etc. It worked out perfectly! While on the all-day tours in Cappadocia, I left the things I didn't need under my covers at my hostel for a lighter load. When I returned to my hostel in Istanbul, my travel pack was just where I'd left it!
Suggestions…
I highly recommend adding a trip to Pamukkale to the end of this tour. I mean, doesn't that just look amazing? (And nope, its not snow or ice!)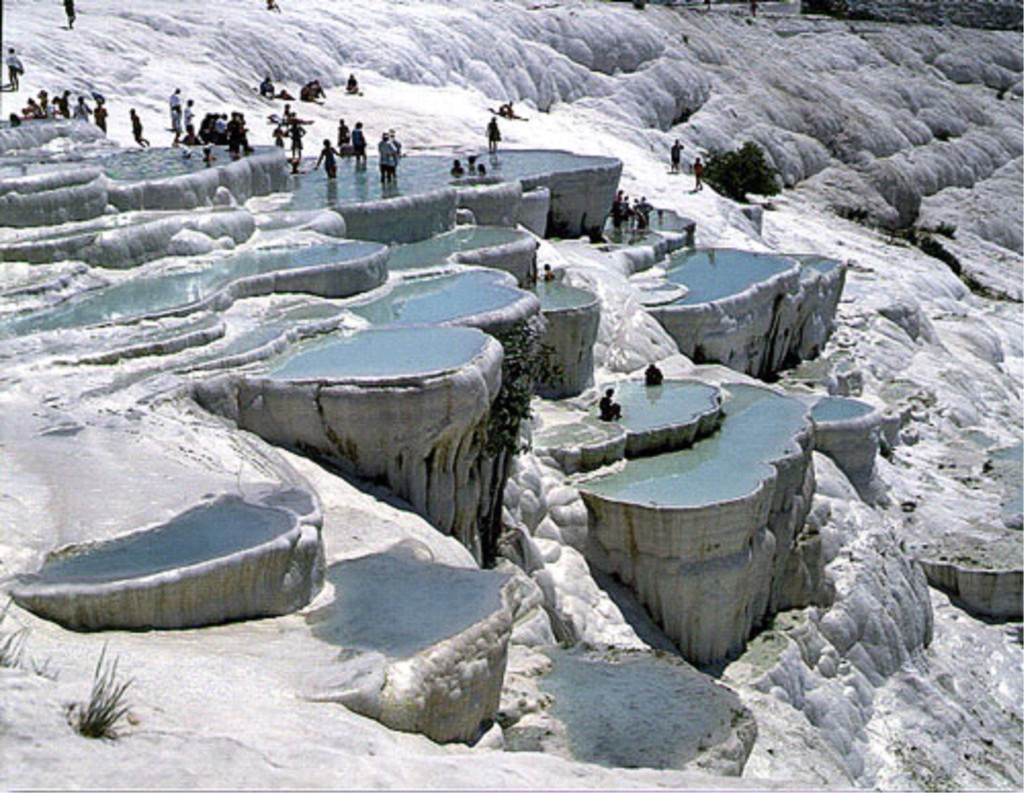 Instead of catching an overnight bus back to Istanbul, you could take an overnight bus to Pamukkale and spend a couple nights there before returning on an overnight bus back to Istanbul. I can't tell you had badly I wanted to go there. Unfortunately, I just didn't have enough time to see everything Turkey has to offer.
I'll just have to make a trip back there one of these days!
What would you do? Book a tour or make your own way to Cappadocia?