If you haven't already heard of Contiki – which I imagine most of you travel lovers have – they are a travel company that specifically run tours around the world for 18-35 year-old-adventure-lovers. You can take a tour with them in Europe, Australia, North America, New Zealand, Asia and Latin America.
If you plan to travel by yourself, no worries – you'll instantly make friends since 50% of their travelers are also traveling solo!
Since Contiki is such a popular company to travel with for young travelers, I decided to interview one of my readers to get a first-hand experience of what it's really like to travel Europe with Contiki.
Meet Shay, a 19 year old Canadian, who recently traveled around Europe for the first time with Contiki!
First of all, what made you decide to travel with a group tour? 
Shay: I wanted to travel Europe, but I wasn't sure I wanted to do it alone. Im 19 (18 when I started the trip), and haven't done much traveling before this. I figured doing it with a group of people, with someone showing us where to go, was my best option.
Contiki offers so many different trips in Europe. Which one did you experience?
Shay: I went on Contiki's European Experience trip. It was 21 days – although it's really more like 19 days. (The "start date" is the day you meet your group in the Contiki basement at 7pm, and the "end date" is the day the people going back to London leave at 7am.)
The tour goes to London, France (Paris and the Beaujolais Wine Region, French Riviera (our group went to Monaco, but I think some tours go to Cannes), Italy (Florence, Rome and Venice), Austria (Austrian Tyrol), Liechtenstein (just a lunch stop, but it's pretty cool), Germany (Munich and Rhine Valley -St. Goar), Switzerland (Lauterbrunnen, Lucerne), and the Netherlands (Amsterdam).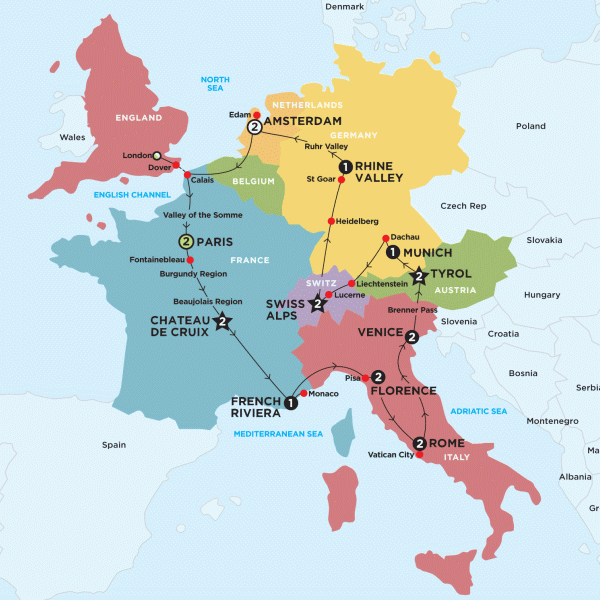 The people you travel with can really make or break your trip, so tell me a bit about the other travelers in your group.
Shay: I believe my trip had 44 people. There were a few Canadians, a couple Americans, a few Kiwis, some Filipino girls, but majority of the group were Aussies. The ages really ranged from 18-35, with the average age around 23/24. 
Our entire group got along pretty well. By day 2 everyone split off into their own friend groups, but if there was a tour dinner, or party night, everyone floated around and mingled with everyone. This worked really well for us because everyone got to know each other, but you had some main friends.  
Were most of the other travelers in your tour group traveling solo, or did they come with friends? 
Shay: I'd say it was pretty split between coming in groups and solo. Half of the people on the trip came in small groups. I went with my cousin, there was a group of 4 guys, some couples, a couple groups of friends, and the rest were solos. 
What was it like traveling with the same group of people 24/7? Was there a lot of drama?
Shay: When there are that many people traveling together every day for 3 weeks, there is bound to be some drama – whether it's people not getting along, hook up drama or other types of drama – but our group didn't have too much. Of course there was the occasional tiff between people, but it never lasted long, and everything went back to normal pretty quickly. 
What was one of the funniest experiences you had while on your Contiki Trip?
Shay: There were so many! I hung out in a group of 8 – my cousin and I, a girl from the States, a girl from Aus, and three brothers and their friend from Aus as well. The guys were always outgoing and crazy, so there were funny experiences every day on the tour. #WHATTHEFUCKISTHIS #CONNNNNTTTTIIIIKKIIIII (inside jokes).
Some of the funniest things were just random things that happened while we were travelling on the bus (people sleeping in the aisles, dancing along, drawing on peoples faces while they slept (DAMN IT VIC).
Sometimes, it was when someone had to drink the horrible concoction that was made during a game of Kings Cup. Or when some people got high in Amsterdam.
However, when we were on top of Jungfrau Mountain in the Swiss Alps, majority of the group stripped down and got some fun photos while on "Top of Europe". Some guys got really into it and got completely naked by the flag, and while they weren't looking, everyone made snowballs and threw them at the guys right as their picture was being taken. Classic!  
Contiki has a big reputation for having very party oriented travelers. Would you say that is true? In your tour group were there also travelers who weren't as interested in partying, and did they still enjoy their experience?
We were the first European Experience tour of the summer, so some of the places that tours normally go to weren't open for us. However, when there was a party it was a damn good party. I, myself, am not a huge partier and when I left Canada for the trip, I was still underage. I hadn't been to clubs or bars and done that whole thing, so I was a little nervous for that. However, a lot of people were big partiers and they kind of set the tone for the evening and it always ended up being a great time, whether or not you drank a lot. The best Contiki parties we had were The Red Garter in Florence, Italy (a Karaoke bar), The Tight White and Bright party in Austria, Munich and the Beer Gardens, and our farewell night in Amsterdam. Other than that we had some pretty fun room parties.
How much in total did you spend in "Extra Costs" during your trip? Can you break it down into categories?
Optionals (extra dinners out, cabarets, paragliding, bike tours, Contiki wear, extra tours and more):  I spent about 500 Euros ($690 CAD, $555 USD, $715 AUS, 365 GBP). The page for your trip will actually tell you all of the activities you can do, and how much they cost. So I knew how much I would need, which was really helpful.
Bars and drinks: maybe $150-$200 CAD ($120-160 US, $155-206 AUS, 78-105 GBP).. I didn't drink a ton, and my birthday was on the tour, so I got free drinks that night! A lot of the time, we'd buy booze at the store, and pre-drink so we didn't need to buy expensive drinks at bars and clubs.
Souvenirs for myself and family: about $200 CAD ($160 US, $206 AUS, 105 GBP)
Lunches, snacks, and treats: around $350 CAD ($280 USD, $360 AUS, 185 GBP)
(Note: ATMs get you on fees and charges. So ask your bank which atms overseas will work best with your cards.)
Total "Extra Costs": about $1390 – $1440 CAD ($1115-1160 USD, $1430-$1480 AUS, 730-755 GBP)
I brought roughly 2200-2300 Canadian Dollars with me, but the rest of my money was for traveling to Greece after the Contiki Trip.
How did you like the Contiki staff on your tour?
Our team was incredible! 
Our tour manager, Carly, was awesome. She taught us a lot about the areas we were in, significant buildings, random facts, and more. She knew how to have a good time – while keeping it professional – and always made sure we were looked after, and that we knew where the party was. 
Our driver Sandro, was equally awesome. We didn't hang out with him as much as Carly, outside of the bus (schedules and sleeping and such), but he was a great driver. He could manoeuvre that bus on teeny tiny roads, and no one ever felt unsafe when he drove. He had a few days off in Italy, and everyone noticed that our sub bus driver would somehow have the bus sway more than Sandro, so we were happy to have him back after his break. 
Also, the onsite Contiki staff were fantastic – always there to help, came to the parties, enthusiastic and energetic, and ensured we had a great time. In Rome, I came back from my day in the city, and somehow ants had taken over my bed….only my bed. Unfortunately, I had ants under my pillow, in my sleeping bag, and because my pack was open and on my bed, they got in my clothes. One of the guys helped me shake everything out, and we grabbed an onsite staff member and he made sure I had a new room – bug free – and he did it really quick. 
What concerns did you have before you left on your Contiki trip, and what would you tell others who have the same concerns?
Shay: My main concerns were:
1) Will everyone get along? That depends completely on you and your group. I've talked to a few people who did Contiki and hated it because the group didn't get along, and the tour manager and driver weren't being professional. Contiki is honestly all about being open to new experiences and meeting new people. It's a 3 week long party. If you're open to have fun, talk with everyone and don't create drama, you're going to have a great time.
2) Did I bring enough money? I brought something like $2200 Canadian dollars ($1770 USD, $2275 AUD, 1160 GBP) with me for spending money, extra food etc. I had plenty for the trip. 
Do you feel that traveling abroad has changed you in any way?
I think if you have traveled abroad and you come home and it doesn't change you, then you didn't do it right. First off, I have a huge bite from the travel bug and I need to go again. But it's also opened my eyes up to the history of the world a little more. Yes, Contiki is party oriented, but when you walk into these cities and ruins that have been around for thousands of years – that you've only read about in textbooks or seen in movies – it all becomes real, and it kind of hits you like a ton of bricks.
"If you have traveled abroad, and you come home
and it doesn't change you, then you didn't do it right."
Take the Dachau Concentration Camp in Germany for instance. We read about the horrors of the war, and the terror that it caused. But until you walk into the crematoriums that burned hundreds of thousands of innocent people or their housing with three bunks stacked high, and side by side from one wall to the next, and see real people's real belongings, you don't know. And when you walk in to the Roman Colosseum for the first time after dreaming about going there for 8 years, it's incredible and jaw dropping. It takes your breath away.
I'm not saying that the realization of history was the only affect travelling had on me, but it was probably the strongest. The culture is a big one too. Different countries do things so differently compared to home, whether its the cuisine, or the greetings, it's insanely cool to be dropped into their culture and get to experience it.  
There are many other young adult travel companies out there, such as G Adventures, Top Deck, Intrepid. How did you choose to travel with Contiki? 
Shay: I am a big follower of Youtubers, and Contiki has been doing something called The Contiki Roadtrip for a couple years now. This Roadtrip is basically a web show where they take some of the big youtubers around on these trips and show you what you do on the tour, while also doing challenges to get their viewers a free trip on Contiki. I watched CTFxC do this very trip in 2012 I think, and instantly wanted to go. I never really looked into other travel companies to be honest. I saw the itinerary for this trip, and didn't want to look around.
Looking back on your Contiki experience, what was the best part of the trip?
It'll sound so cliche, but all of it. I wouldn't change the trip. I wouldn't change the people that went on it. I had the time of my life, with the best people, and I'm going to remember it forever. I loved the bus rides, and the free days in historical cities, and the little bistros, and the cabarets, and the wine tastings, and drinking steins of beer, and paragliding, and going to the top of Europe, and riding canal bikes. It was all fabulous. 
What would you say to other travelers who are thinking about doing a Contiki tour? 
Shay: I'd say, don't hesitate and do it! That being said, I also did a ton of research for my trip – which sounds silly because it's Contiki, but it came in really handy. I knew exactly what I was getting myself into. I knew what I should bring – even though weather decided to change. I knew what activities I wanted to do, and which ones I didn't have an interest in spending money on. I knew what time of year would be best for me to go – aside from my 19th birthday falling right in the middle of the trip (big reason why I went when I did), April was the best time for me to go. It was quiet at home, so there wasn't much work, it was not cold, but not too hot in Europe, and the timing just worked for me. If you want crazy parties every single night, go in the middle of summer, but if you don't mind some down nights, go earlier or later in the season. We had parties and we knew how to have a good time, but we didn't go insane every night -partially because some of the villages we were staying in were having their off season. 
What have you learned or taken away from your traveling abroad experience?
Shay: Besides that I need to see it all, I've learned that no one place does things "properly". Every country has their own customs and it's only a matter of adapting. I've learned more about my capabilities as an adult: what I can do and what I can't, what I'm comfortable with doing and what I'm not. I've learned more about budgeting…kind of. And I've learned so much more about what the world has to offer, and how small my bubble of it truly is. 
Would you take a Contiki Trip?
Wondering what to pack, what luggage to take, and more specific insights into a Contiki Trip? Make sure to check out "What's it Really Like to Travel with Contiki? – Part 2".