Packing smart is an essential part of having a great time backpacking across Europe. For 3 weeks, 3 months, 6 months or longer, your pack and the contents in it are basically your life. You don't want to over pack because when-you're-wandering-around-Budapest-for-30-minutes-in-the-ungodly-heat-after-just-arriving, looking-for a-street-called-Erzsébet körút (which you can't even pronounce) so-you-can-get-to-your-hostel-and-drop-your-brick-like backpack-off-your-aching-back, you will definitely have wished you didn't over pack. However, you also don't want to forget necessary items either. Here is a list that comprises what you should pack for a backpacking trip through Europe.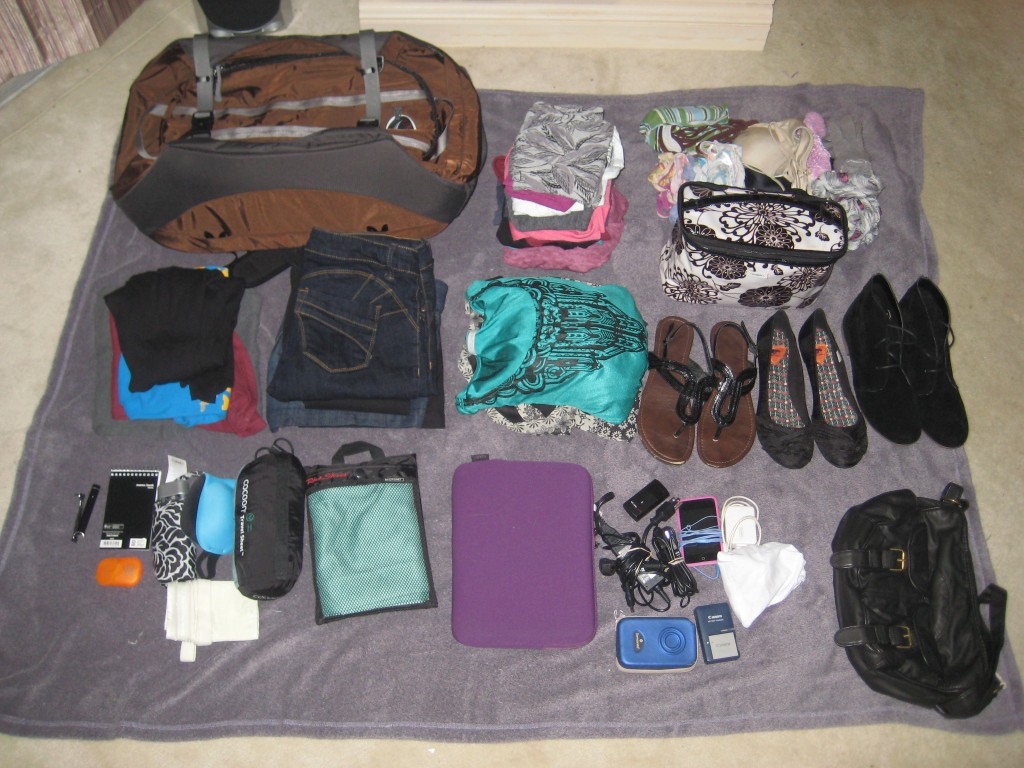 Female Packing List for Backpacking Europe:
Clothes for Summer:
1-2 pair of shorts for daily wear
1 pair of jeans for cool days/nights
4-5 lightweight shirts or summer dresses (that don't wrinkle!)
1 pair of leggings or comfy pants for travel
1 pair of closed-toe shoes/sneakers (good walking shoes)
1-2 pair of sandals/flats
7 pairs of undies
2 bras
3 pairs of socks
1 pair of comfy, warm socks (Good for those cold summer nights, or cold train!)
2 "night out on the town" outfits (You could get by with nicer tops and jeans. Leave the heels at home!)
1-2 Bathing suits, depending on your plans
1-2 sweater/jackets
1 rain jacket/wind breaker
As for jewelry, only bring the basics. Earrings, necklaces, rings, etc that you can wear with pretty much everything is ideal.
1-2 scarves (Very popular in Europe!)
You'll be able to do laundry fairly easily, whenever you'd like, so don't worry about that. The hostels will either have a washer/dryer you can use for a fee, or they can show you wear the nearest laundry mat is. The laundry mats either sell detergent, or you can easily get some at a nearby store. Personally, I prefer to avoid hand washing everything if I can, but that's always an option too.


Bathroom Essentials:
Shampoo
Conditioner
Soap/body wash
Tweezers
Nail clippers
Nail filer
Shaving razor
Nail polish
Nail polish remover
Makeup (Only bring what you can't live without!)
Flat iron
Heat protectant spray for Flat Iron
Hair dryer (Buy a compact one in Europe; or don't bring one if you don't have to!)
Hair brush
Tooth brush
Tooth paste
Lotion
Tampons/Pads (Bring 2-3, and buy them in Europe when you need them)
After a 10 hour day of sightseeing, walking around a crowded city, and taking all kinds of public transportation, chances are you'll be ready for a much needed shower to feel fresh again. The items above will make you feel refreshed and revitalized for your night out, or for the next day ahead. Word of warning, though! This category has a tendency to add more weight to your pack then you'd first think. Only bring, what is absolutely necessary. Also, bring everything travel size! Important for flights on Ryain Air and Easy Jet!
Electronics/adapters:
Camera + charger (Lots of SD cards)
OR
Use your phone as your camera
If you decide to use the camera on your phone, make sure the SD card on your phone can hold enough photos and videos. Also, bring an extra battery for your phone. You don't want your phone to die right when you're about to take a picture under the Eiffel Tower!
Ipod + charger + headphones (for those long train/plane rides)
Laptop/Ipad/Tablet + charger + 3 prong adapter
Not necessary, but sometimes convenient, especially if you're planning on writing about your trip. Hostels almost always have computers you can use, and most are free to use. Wi-fi is almost always available, sometimes for a price, at hostels. The quality is not always the best.
Miscellaneous:
A day pack (a cute, smaller backpack, or purse that's big enough to fit a map, water bottle, camera, ipod/phone, brush, sometimes an umbrella, etc.)
Tissues packs (You'd be surprised how often these come in handy)
Ear plugs (A must if you're sleeping in hostels)
Plastics bags (for dirty clothes, and other random things)
I'd recommend getting books you can listen to, for example from Audible. That way you can bring a lot with you, but without the added weight.
Download Movies/TV Series Season/Apps to Ipod/Phone/Pad (Great for long train rides).
Wi-Fi is too slow and unpredictable, so download before you leave.
Things I Wish I'd brought:
A rain jacket. I didn't think I'd actually need one, or use it. I was wrong. It poured for several days at a time on my trip, and an umbrella can only keep you so try. Definitely bring a rain jacket. It can double as a regular jacket too.
A good pair of walking shoes, especially for when it rains. I was not prepared for this. I didn't bring any sneakers because I didn't want to stand out as an American or a tourist. I definitely regretted not bringing them. I only brought sandals and flats. My flats gave me blisters after wearing them for 10 hours a day for 4 days straight. Also, trudging through puddles along the streets of Paris with flats was not fun. They got soaked, and after days of it raining, they smelt terrible. (I noticed most people wore different types of boots when it rained. So that's another option. But keep in mind the size of your travel pack!)
Warmer clothes for England, Ireland, and Paris in May. Being a Floridian I naturally thought that in May it was summer everywhere. Well, that's not the case. I was shocked by how cold it was in Northern Europe in May. More importantly, I didn't pack appropriately for cold weather. I basically brought all summer clothes, and froze my butt off the whole time in Northern Europe. (I was so happy when I landed in Greece and was greeted by warm weather!)
 Wish I had brought more books or things to do to pass the time on long train/plane rides.
More adapters for charging all my electronics. Sometimes there are only two or four outlets in a hostel room to charge all 8 peoples electronics. That's going to take awhile. One thing you can do is bring a 3-outlet plug. You plug your adapter into one of the outlets in the room, and then plug your 3-outlet plug into your adapter. Next plug in your ipod, camera battery, and laptop to charge!
Things I Wish I Hadn't Brought:
Um.. about half the stuff in my pack. Seriously. I only wore or used about half the stuff I brought. I brought too many clothes that I "thought" I'd wear, and I brought cosmetic stuff that I rarely even use at home. What was I thinking?
Important Tips for Packing
1. Don't Wait to Pack 'til the last minute. You will end up packing more than you need.
2. Set out what you plan on bringing on your floor or bed.
3. Go through every single item, and make sure you will wear or use every single item you pack. If you wouldn't wear or use it consistently now, you probably won't while traveling.
4.Traveling is a completely different lifestyle. You are constantly on the move. From the airport or the train station, to the metro, to your hostel, to sightseeing 10 hours a day, to partying or socializing at night. Day, after day, after day. You see so much. You experience so much. You meet so many different people. It's rewarding, and it's exhausting. You will find that your priorities change. You won't be as concerned about your appearance because you will find that it's just not as important. You're too busy traveling and having fun to put much time or effort into looking good. (Plus, sharing bathrooms with 10+ other people just doesn't allow you the time to get ready like you normally would at home.)
5. After traveling for a while you will begin not to care that you've worn that same shirt 3 times this week.  You'll just put it on. If it smells a little, you'll just get some soap and wash the underarm area in the sink, and then throw it on. Then out the door you go. If you think I'm crazy, you just wait. Backpacking becomes all about simplicity.
6. PLEASE DON'T OVER PACK. This is one advice I really wish I would have listen to. You may think you need to bring more clothes, but honestly you don't. Most likely you will only be in each city for a few days, then you'll move on to the next city where no one knows you! If you're concerned about wearing the same clothes in pictures, don't be. Admittedly, I had the same concerns, but they quickly went away once I was traveling. People are more interested in where the picture was taken, then what clothes you were wearing.
7.You should still have room in your pack before you leave for your trip. If it's completely full, you've packed too much! You will want to pick up some small (preferably light-weight) gifts and mementos while on your trip, so leave room to carry them back!
The lighter your pack is, the more enjoyable your trip will be! I'm speaking from experience!
Pack light. Pack smart. And have a great trip!
UPDATE: Check out my latest packing list article: Ultimate Female Backpacking Europe Packing List
Anything I forgot to add? List it below!
Check out other helpful Europe Backpacking posts:
Best Backpack for Traveling Europe!
3 Week Backpacking Route for First Time in Europe!
My 2 Months Backpacking Europe Route!
How to Plan Your Ideal Backpacking Route in 6 Simple Steps!
How to Use Airline Miles to Get Practically a Free Trip Abroad!