One of the highlights of my 2 month backpacking trip through Europe was spending 2 days relaxing at the Szechenyi Thermal Baths in Budapest. I only planned on going to the baths for one day, but I loved it so much, I went back for a second day. I mean face it, after weeks of non-stop traveling you're bound to be exhausted. What better way than to stop and enjoy this resort-like place?
What are the Szechenyi Thermal Bath?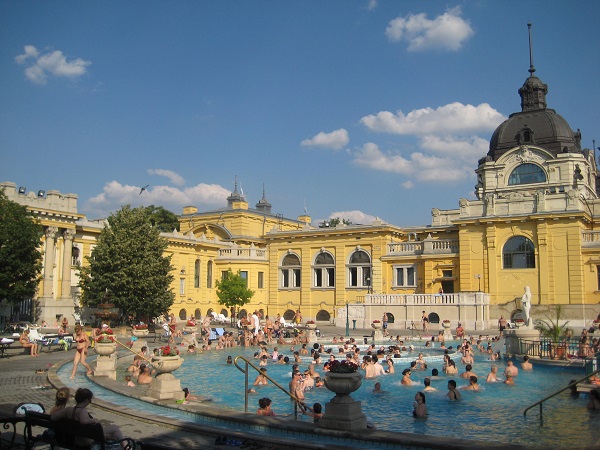 It's the largest medicinal bath in Europe. The complex offers spa and wellness treatments, and has several indoor and outdoor pools, which are filled with natural thermal water.
My Experience:
I really enjoyed this place! I went there about 5 weeks in to my 7 week trip, and I can't tell you had bad I needed a couple days off. It was such a relaxing environment, the pool temperature was fantastic, and there was one huge hot tub like pool, which is very similar to a "lazy river" at an amusement park; where the water pushes you along. It was like a mini vacation, from my "vacation", for less than $20 for day. No complaints here!
I went to Budapest as a solo traveler, and I met 3 other English speaking backpackers while at the Széchenyi Thermal Bath one of the days, I think from Australia and the US. The thermal baths seemed to mainly attract the Hungarian locals, and not as many tourist as I would have expected, so I was glad to have met people that I could talk to!
Here are some pics from my trip:
Things to Know Before You Go:
Bring a towel, if you have one, otherwise you'll have to pay for one.
If you plan on laying out, be prepared to lay on the hard ground. If I remember right, there weren't very many lounge chairs, and I think they were pretty expensive.
They have lockers that you can rent.
They have food there, but if you want to save some money, bring your own.
Hours:
"The swimming pool and the thermal pools are open from 6am until 10pm every day. The steam area closes at 7pm. Massages are simultaneously available every day, but the daytime hospital is closed on week-ends, so most therapeutic services are available on weekdays only." Check Website
Price and Location:
It's a great place to hang out for a day, soak up the sun, and relax, so make sure not to miss the Széchenyi Thermal Baths in Budapest!
Still have questions about it? Ask me in the comments below.
-Happy Travels!