After more experience traveling as a solo backpacker, I feel it's definitely time for an update to my original packing list (read: Female Backpacking Europe Packing List). I'm currently spending three months backpacking Europe this summer (2014), and I can tell you I feel way more prepared than I did on my first trip to Europe. I've learned quite a bit about what to pack and what not to pack. Hopefully, it'll be of some help to you while you're planning what to pack for your big trip!
What Kind of Travel Pack Do I Use?
First things first. What kind of travel pack do I use? Well, I actually just bought a new travel pack, the Osprey Farpoint 55L
, a few months ago. I absolutely love it. It has a great detachable day pack, a specific laptop space, good waist straps, opens like a suitcase, and it's a really nice size for long term traveling: not too big, but big enough! The pack also comes in 40L and 70L, as well as black and red. (Read: Travel Pack Review: Osprey FarPoint 55L). You can also check out the pack on Amazon here: Osprey Farpoint 55 Travel Backpack
.
(Note: This travel pack is too big to take as a carry on, unless you get the S/M size and leave the day pack at home. Otherwise, plan on checking it on flights or only taking buses/trains.)
Along with carrying my travel pack, I also always carry my purse separately. It makes it a lot easier to access things I need while I'm traveling. Taking your pack on and off every time you need to get something out isn't practical, or fun. I always choose a purse that has straps, like a messenger bag. That leaves my hands completely free, which is great for navigating foreign cities.
What's in My Travel Pack?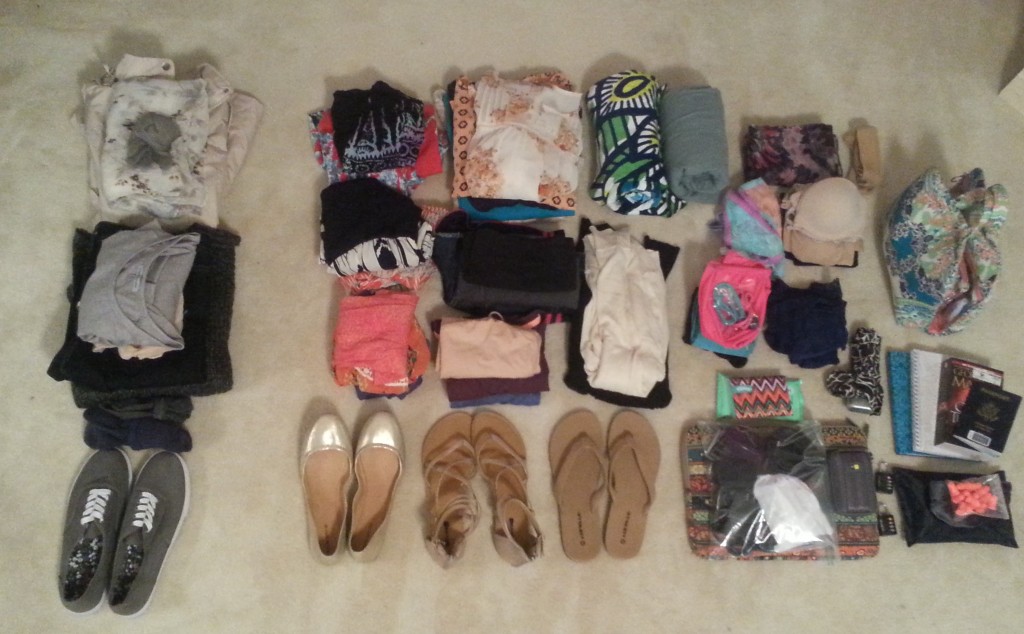 Yep. That's everything! It's absolutely everything I brought with me to Europe, and it's actually quite a lot. (My purse is the only thing missing from the picture, but I go into detail about what's in my purse below.) The outfit on the far left, including the shoes, is what I wore on the plane, so those items weren't packed. Everything else I packed into my Osprey Farpoint 55L bag.
Let's Break It Down…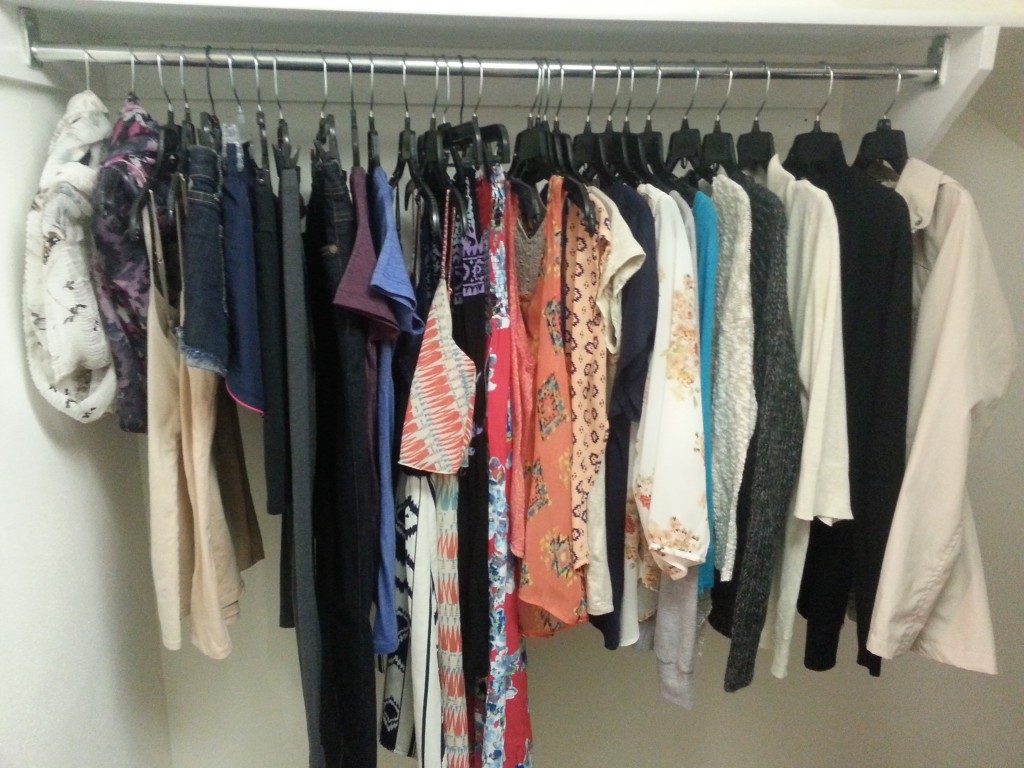 Clothes for European Summer:
Does it look like a lot? I brought much less my first trip, but I regretted having to wear the same few shirts over and over. Also, keep in mind that I'm traveling all over Europe between Iceland and Egypt, from May to September, so I had to bring clothes to suit weather from 45F/7C to 107F/42C. A little challenging, but layering and mixing and matching is key!
(List is in order from left to right of the picture above.)
2 scarves (Very popular in Europe!)
2 basic tanks
1 pair of jean shorts
1 pair of active shorts (Good for sleeping in, hiking, comfy wear)
1 black skirt
1 pair of leggings (Serves the same purpose as the active shorts, especially in cooler weather. Good for wearing under jeans, as well.)
1 pair of jeans
2 basic t-shirts (Good for hiking, sleeping in, travel days)
2 sundresses (You can also dress them up a bit and wear them on a night out)
1 bathing suit cover up dress
1 maxi dress (Mainly brought this for Egypt because it's more conservative there and I needed to cover up)
2 sleeveless tops
3 short-sleeve tops
2 3/4 length sleeve tops
1 long sleeve shirt
1 3/4 length sleeve pullover sweater
1 long sleeved thicker pullover sweater
1 3/4 length sleeve cream colored cardigan sweater
1 long sleeve black cardigan sweater
1 rain/warm jacket with hood
Bathing Suits/Bras/Undies/Socks:

3 bathing suit tops
2 bathing suit bottoms
2 bras (1 strapless)
2 bandeau bras (1 nude, 1 black)
7 pairs of undies
1 pair of regular socks
1 pair of warmer socks
3 pairs of cotton liners (Good to wear with flats or shoes)
Shoes: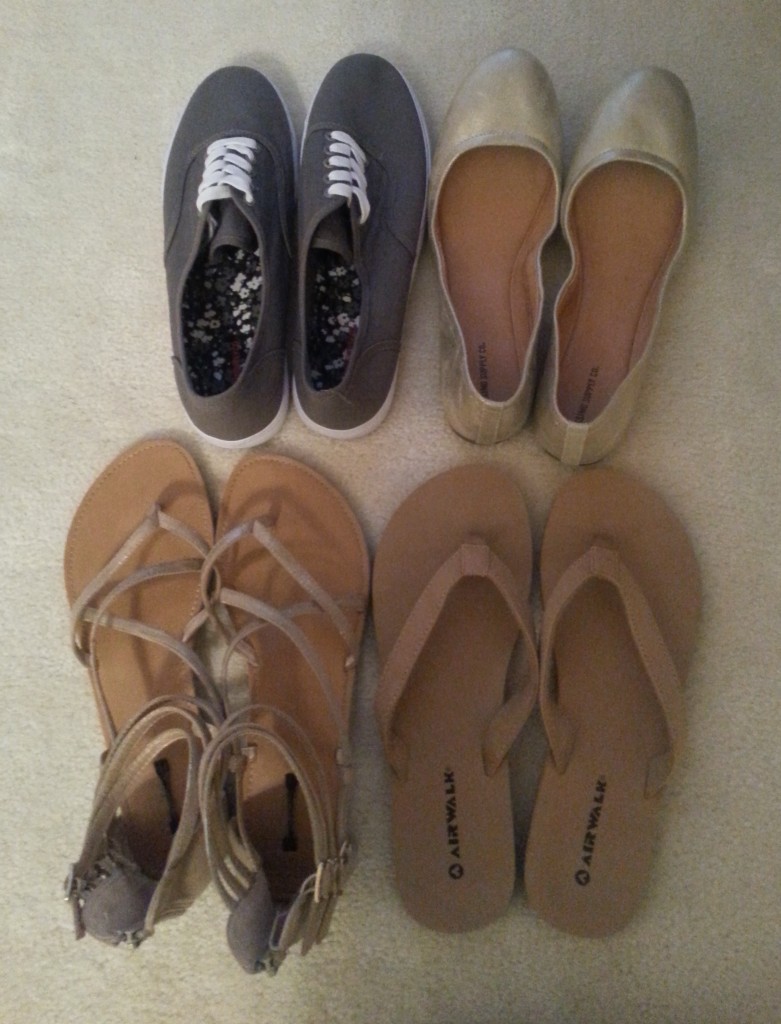 Ballet Flats (Casual or dressy)
Gladiator sandals (Casual or a little dressier)
Flip flops (Great for the beach, hostel bathrooms, casual wear)
Closed toe shoes/running shoes (I thought about bringing running shoes, but I wanted something a bit more causal, and not so touristy/athletic looking. The shoes I brought work perfectly.)
Toiletries/Makeup:
Toiletry/Makeup List:
Shampoo (I use the travel size shampoo and conditioner in about three uses, so I prefer to just buy the regular sized ones. You'll have to check your bag, though. Otherwise, just buy the travel size!)
Conditioner
Leave in Conditioner/Hair repair solution (You WILL need this!)
Face Cleanser
Body wash (Travel size)
Lotion (Travel size)
Sunscreen (Travel size)
Deodorant (Travel size)
Toothpaste (Travel size)
Travel toothbrush
Floss
Razor
Hand sanitizer (Keep it in my purse)
Contact solution (Travel size)
Contacts
Contact case (Not shown above)
Retainer/Retainer Case
Tissues
Nail polish
Nail polish remover (Not shown above. I don't use it that often, so I just buy it abroad when I need it)
Band-aids (You'll need them more than you think.)
Tampons/Pads (Only bring a few if you won't need them right away. You can buy them abroad in Europe easily.)
Vitamins/Emergen-C
Aspirin/Motrin (Not shown)
Birth control/Condoms (Not shown)
Hair brush
Hair ties
Bobby pins
Compact mirror
Make-up (I keep it simple)
     Foundation
     Foundation brush
     Eyeshadow
     Eyelid vanilla color
     Eyeshadow brush
     Blush
     Blush brush
     Mascara
     Eyeliner
Chap-stick
Lip gloss
Tweezers
Nail Filer
Jewelery: (Tried to keep it pretty simple.)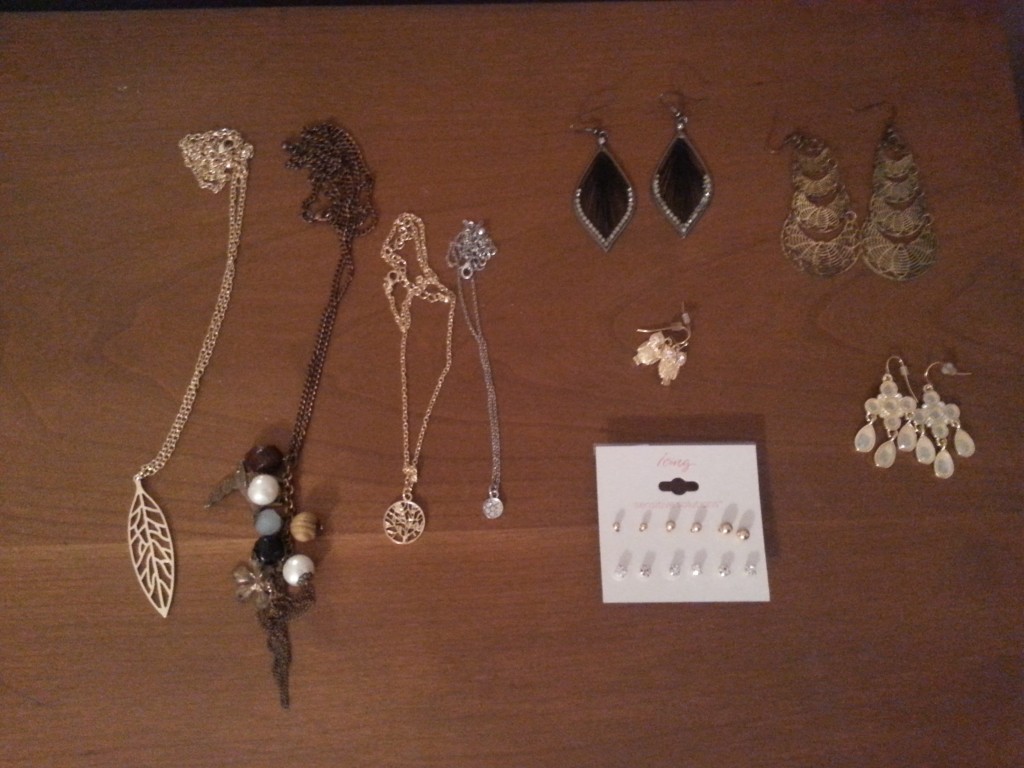 4 necklaces
3 nicer earrings
1 causal pair
3 basic pairs of gold and silver studs
Miscellenous Items:
Towel (I chose to bring a thin beach towel, instead of a travel towel. The reason for this is because I've used a travel towel before, and I just don't like them. They feel a bit like rubber, they don't soak up the water very well, and they are barely big enough to wrap around myself. Personally, the thin beach towel is definitely worth bringing, even though it takes up a bit of space.
Sleeping sheet (Nice to have when hostels want to charge you for sheets, or when the bedding looks gross, or when you want to sleep under the stars.)
All of the above fits nicely into the main part of my pack. The rest I store in the detachable day pack.
What's in My Day Pack?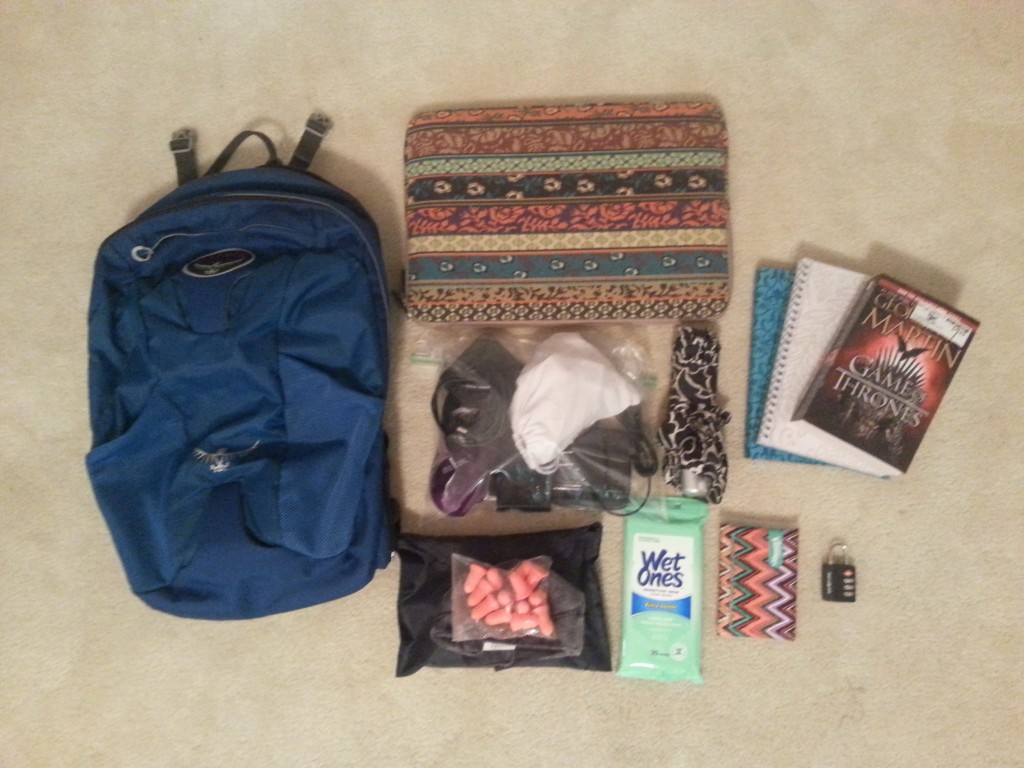 Miscellaneous Travel Items (stored in my day pack):
Inflatable neck pillow
Ear plugs
Wet wipes
Tissues
Umbrella
Purple Misting Fan (Great for Egypt and really hot places!)
White travel planner (I should have gotten a smaller size, or just used my phone. I prefer a big planner I can write it, but space was an issue.)
Blue travel journal (Try to keep a journal if you can. It's tough, but so worth it.)
Reading book – Game of Thrones, of course! (I watch the series, but still getting caught up on the books.)
Locks (1 lock for my main pack, and 1 lock for my day pack)
Key chain flashlight or flashlight phone app – Not shown (It's really helpful for seeing in the dark when you come back late or leave early, and your hostel roommates are sleeping.)
Plastics bags/zip lock bags (They come in handy for many things, especially for storing dirty laundry.)
Electronics:
Laptop/Laptop Sleeve
Laptop charger
Camera
Camera battery charger
Adapters:

1 Northern European adapter
1 3-prong Northern European adapter

1 all-in-one adapter (has adapters for all countries)

1 3-prong multi-plug (Really convenient when you have a lot of things to charge, but only 1 outlet is available. It beats fighting it out with your hostel roommates!

Phone (Carry it in my purse)
Phone charger (Carry in my purse on travel days; along with the correct adapter.)
What's in my Purse?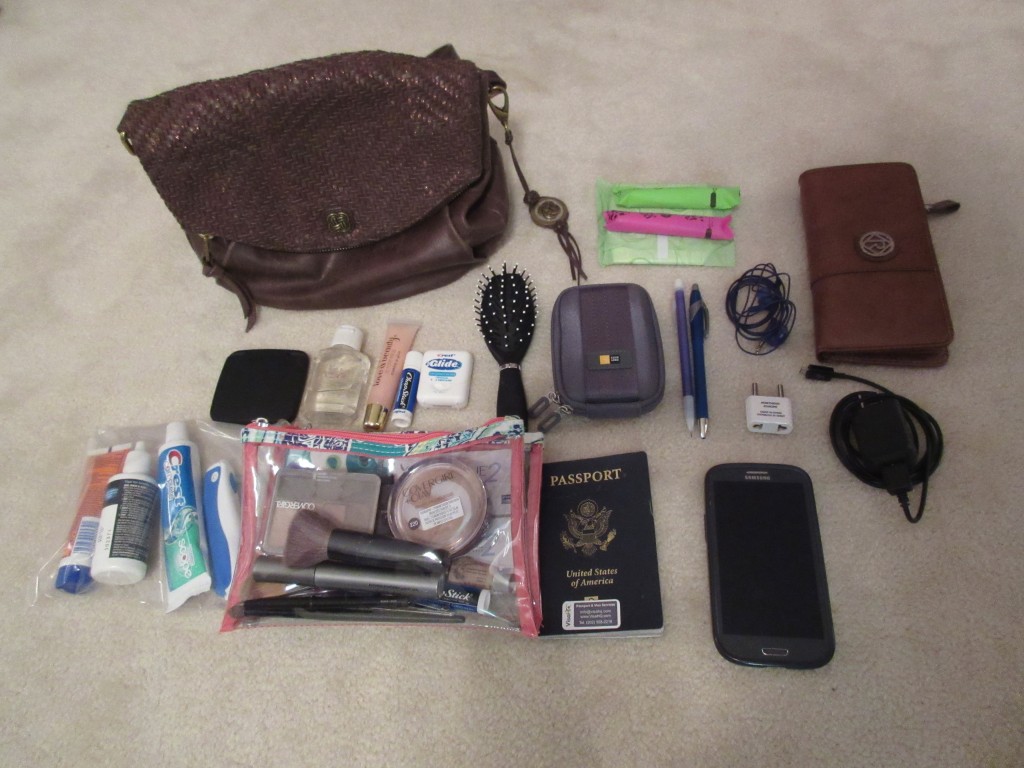 Above is everything I carry in my purse on travel days. Usually, I pack the makeup bag in the day pack, and I only carry around a toothbrush, toothpaste, and contact solution for overnight trains/buses or red eye flights.
Passport
Wallet
Phone
Phone Charger
Adapter for phone charger
Camera
Small hair brush
Headphones
Make-up bag
Compact Mirror
Toothbrush/Tooth paste
Floss
Contact solution
Contact case (Not shown)
Sunscreen
Tampons/pads
Hand sanitizer
Pen/pencil
Chapstick
Lip gloss
 That's Everything!
It all fits perfectly into my purse and Osprey Farpoint 55 pack.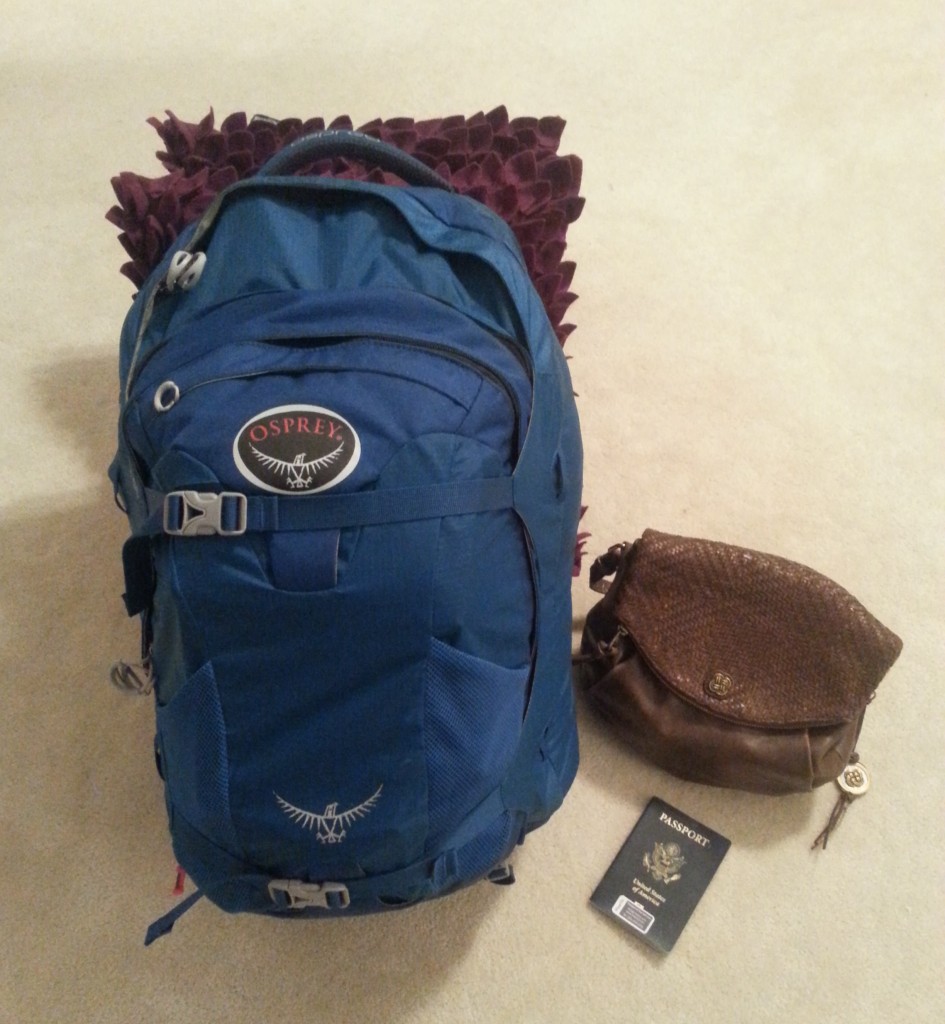 Now you're ready for the trip of a lifetime!
Subscribe to BlondeChickTravels: