Are you considering backpacking Europe solo, with friend, or with a Tour Group? Each of those options will provide you with a completely different European experience. Before making your decision, there are some important things to consider. Hopefully, you'll then be able to decide which is right for you.
Traveling with a Tour Group
PROs:
Traveling with a tour group, like Contiki or GAdventures, is by far the easiest option. Your itinerary is already planned, so you'll save countless hours researching and planning. Making friends is basically guaranteed since you'll be traveling 24/7 with the same people for days or weeks. A group tour is like a pretty package all wrapped up with a bow. It's a stress free trip. You just sit back, relax and enjoy.
Read: What's it Really Like to Travel Europe with Contiki?
CONs:
Traveling with tour groups is always more expensive than if you were to travel on your own or with friends. The fact is that the tour company has to make money off of you to stay in business. That's not a bad thing, since it's a great service they provide. Just know you're paying for it.
Example: 
A 20 day European Contiki trip costs $2659 plus say around $1000 in "extra costs". That's $3809 for 20 days in Europe. I spent a little over $3000 for 30 days in Europe. What does that mean? That you would be spending $1,000-$1,500+ more by choosing to travel with a tour group.
Traveling with a group tour also means you are confined to the trip's itinerary. You will have some free time to go off and do your own thing. However, catching a train to a different city (that you'd really like to visit) is pretty much out of the question. You might be surprised by how easy it would be to do just that once you're over there.
 Not only are you confined to the trip's itinerary, but you're also confined to the same group of people… for the entire trip. You won't be making new friends everyday, like you would in the hostels. It's also important to realize that the people who tend to go on the group tours in Europe are typically native English speakers from the U.S., Canada, the U.K., Ireland, South Africa, Australia and New Zealand. You're essentially surrounding yourself with non-Europeans while traveling through Europe, which is a bit ironic. Making European friends while traveling through Europe will make your experience so much more authentic!
But then again… group travel can be loads of fun!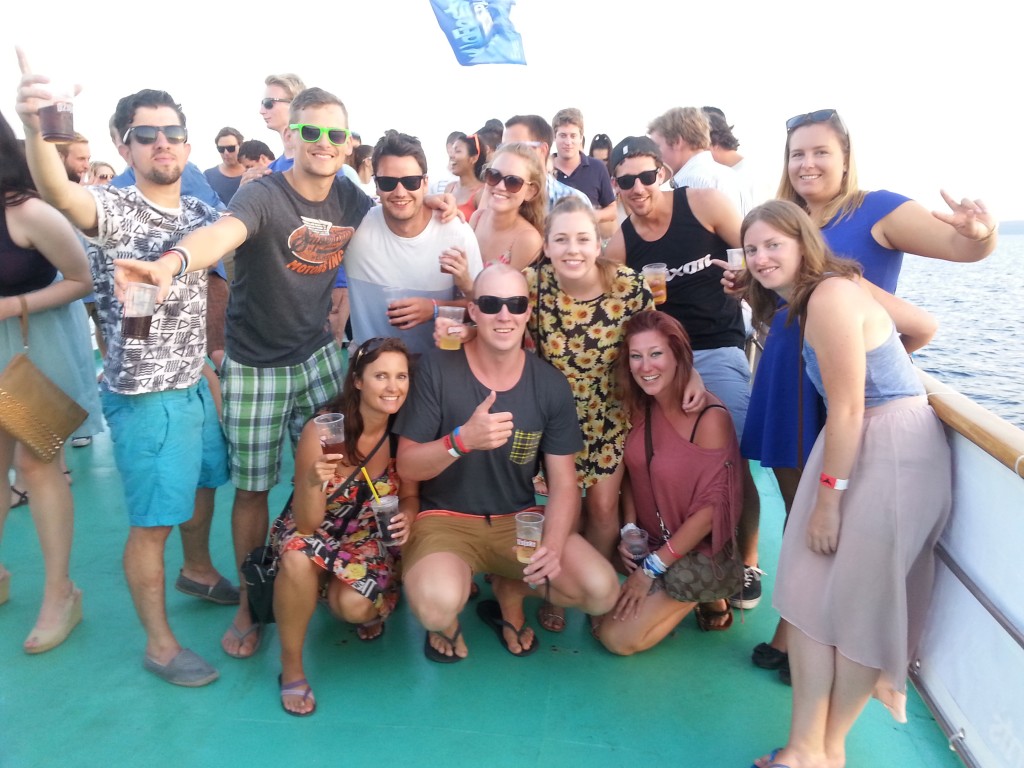 Recommended For:
Younger travelers right out of high school

Those who wouldn't even consider traveling abroad alone

Those who don't want to worry about all the researching and planning

Those who don't want any stress and just want to have a fun time
Traveling with Friends:

 Traveling with a friend or a group of friends is a lot more difficult than traveling with a tour group, but much easier than traveling solo.
PROs:
You will always have someone familiar with you, which will make you feel so much more comfortable navigating a foreign country. If you're traveling with a friend(s), you have the wonderful option of staying in AirBnbs, or getting a private room, which is a nice change from the 20 bed dorms! One of the best parts about traveling with friends is that you will always have someone who went through the same experiences as you did. You'll be able to laugh and reminisce about your time in Europe long after your trip.
CONs:
You are with your friend(s) pretty much 24/7 for the entire trip, so you better hope they are good traveling companions or there's gonna be some drama. You know how they say not to room with your best friend your freshmen year of college? It's a bit of the same thing when it comes to traveling with them. If things don't go well, there's the possibility of it ruining your friendship. You both need to be very good at communicating and compromising. Another point to consider is that traveling with friends can make it harder to meet other travelers. I've noticed that friends traveling together seem to be a bit closed off when meeting them in hostels. They don't feel the need to overcome the awkwardness of making new friends because they already have someone to do things with. They miss out on getting to know new people and making friends with foreigners.
Note:
Even though you're traveling with a friend, it doesn't mean you both can't go off and do your own thing every now and then. You don't have to do EVERYTHING with that person. The sooner you realize that, the better experience you'll have.

Try to be open to the solo travelers you meet and invite them along on whatever you're doing. They'll greatly appreciate it!
Recommended For:
Those who want to travel cheaply and have friends to travel with

Those who know for sure their friends would be good travel companions

Those who don't mind compromising a LOT and going with the flow

Those who think they would have trouble figuring things out all on their own

Those who need the comfort of familiar people around them in a foreign environment

Those looking for a fun experience to share with their best friends
Traveling Solo:

Traveling solo is by far the most challenging way to travel, but also the most rewarding.
PROs:
You'll have complete freedom to travel as you'd like with no tour group schedule to follow, and no complaints from friends that they want to do something else. You're the only one in charge of your itinerary. You'll be forced to meet new and interesting people every day, which will become like second nature to you in no time. You'll have to overcome obstacles by yourself that will make you grow significantly as a person and cause you to break out of your bubble. You'll have a lot of time for self-reflection and growth, and you'll return home a more outgoing and confident person!
CONs:
Traveling solo is not easy, especially at first. Traveling in a foreign country, alone, will be stressful and overwhelming at times. You'll be forced to figure everything out yourself in a new and unfamiliar environment. There will be many times that you'll feel lonely, and you may even be pushed to your breaking point.
Recommend For:
Those who want to travel cheaply, but have no one else to travel with

Those who can stay calm and collected in trying situations

Those looking to make friends with foreigners and get more of an insight into European lives

Those looking for self-growth and reflection on their life thus far
Which is right for you?
That will depend on where you are at this point in your life. Are you looking for something stress free and fun, an amazing experience to share with your best friends, or are you looking for a challenging and self-growing experience? You'll have to decide for yourself which is best for you.
I highly recommend mixing it up and experiencing all three! Go solo. Meet up with your friends in Europe later. Take a one week group sailing trip in Croatia. Get the best of it all. You'll have the time of your life.