Traveling by train seems to be the preferred choice of transportation when backpacking Europe. Most first time travelers to Europe plan to either buy the expensive Eurail Pass, or to buy point-to-point train tickets with a combination of cheap budget airline flights. I know while planning my very first backpacking trip to Europe, I really only considered traveling by train. For an American girl who grew up only traveling by car, the thought of train travel just seemed so cool! Any other means of transportation didn't even cross my mind. I felt like you're supposed to travel by train while backpacking through Europe.
Once I learned about budget European airlines like RyanAir, EasyJet, Aer Lingus, etc., that offer flights from $20-$100+ USD to cities all over Europe, I realized it definitely made sense to fly to some places rather then being on a train for the entire day or longer. However, if the distance was short enough, I was really excited to take the train. Looking back, I wish I would known what I know now.
Save Money and Don't Take the Train…. Take the Bus
While the train is a very convenient way to travel, dropping you off right in the city center, it's actually quite expensive. A much better alternative is to take a bus.
Now, I'm not taking about some local, dirty, city bus. I'm talking about traveling by coach. There are many different companies that provide travel by coach to and from popular European cities for a fraction of the cost of a train ticket. The coaches are air conditioned, have a toilet on board, and sometimes have free wifi, as well as, a charging socket. The bus stops aren't usually in the city centers, but they are typically near a metro/train station. (Sometimes you may have to walk for 10 mins before you reach the station, and other times you'll pull up right next to the station.) At first, I wasn't quite a fan of the idea of traveling by bus, but it's honestly a great, economical way to get where you need to go.
MegaBus: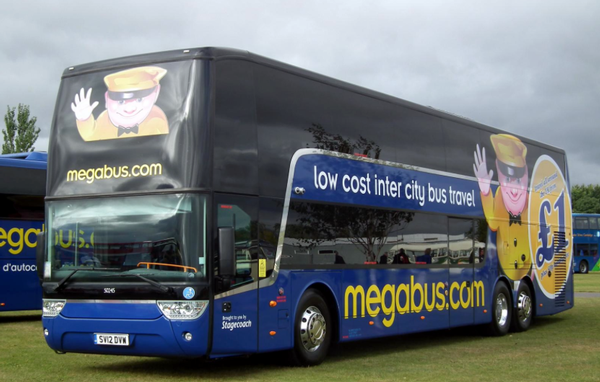 MegaBus is a UK based budget coach company that links the U.K. to continental Europe. MegaBus operates in the U.K., Ireland, Belgium, The Netherlands,  Luxembourg, Germany, Italy, and Spain.
My Experience:
After waking up late and missing my flight, I was able to book a MegaBus the same day from London to Cologne (Köln), Germany for £25 ($39 USD). It was a 9 hour bus ride, but definitely worth it for the price. The airline tickets were around $100 USD at the time, and the train ticket would have been even more. I also got to experience traveling under the English Channel!
I've taken the overnight MegaBus from London to Edinburgh for £30 ($47 USD), which also took about 9 hours. Since it was an overnight bus, I saved the cost of an expensive night in a London hostel (easily $40 USD by itself)! The train would have cost $100 if booked in advance.
I traveled from Cologne (Köln), Germany to Antwerp, Belgium for £15 ($24 USD) with MegaBus. The travel time by bus was 4 1/2 hours. The train cost $50 USD and would have taken 2 1/2 hours.
FlixBus:
FlixBus, also known as MeinFernbus, is a long distance budget coach company founded in Germany. They operate mainly in Germany, but also extend out to the The Netherlands, Belgium, France, Denmark, Sweden, Austria, Switzerland, Italy, Czech Republic, Hungry, Croatia, and Slovenia.
My Experience:
Antwerp, Belgium to Amsterdam cost €9 ($10 USD) and took about 3-4 hours. When I looked at taking the train, the cost was €32 and took 2 hours 15 mins.
Amsterdam to Paris cost €19 ($21 USD) with a travel time of 7 hours. Although, in reality it took 10 hours. The bus was late, the driver decided to take a break mid-way, and then our bus got stopped by the French border control and a passenger got busted for drugs. The train would have only taken 3 1/2 hrs. However, the cheapest train ticket was €95 euros, so I can't complain too much.
Time or Money?
You'll soon realize while traveling that it all comes down to time or money. Do you have more time to spare? Or do you have more money to spend? As a backpacker, you're probably looking for the most economical way to travel. In that case, I highly recommend taking coaches over trains. I actually have met more backpackers on the coaches then I have on trains, which of course, makes sense.
As much as I'm pushing traveling by coach, I'm not saying to never take the train. Train travel is definitely something you should experience while backpacking through Europe, especially an overnight sleeper train! Just make sure to compare the train prices with the bus prices, and then decide what is best for you.
Other coach companies to check out are EuroLines, iDBus, National Express (in the UK), and BusEireann (in Ireland). There are many others, as well.
Need help planning your backpacking route? Read: My 2 Month Backpacking Europe Route
How much did it cost me? Read: How Much Does it Really Cost to Backpack Europe for 2 Months?
Nervous about traveling solo? Read: Why You Don't Need to be Scared to Backpack Europe Alone
Would you consider traveling by coach instead of the train to save money?